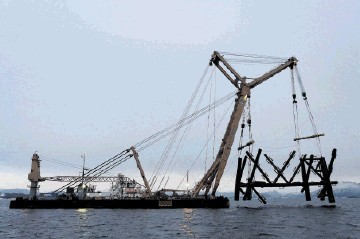 The findings of new research into the impacts and ownership of risk across the decommissioning of North Sea oil and gas infrastructure could shape the contracting models that have so far proved elusive to the industry and stalled progress.
With an estimated £4.5billion of decommissioning work in the pipeline before 2017, the research just undertaken by Accenture and Decom North Sea appears timely and should help with a better understanding of the risks involved and how to deal with them.
It should be borne in mind that the £4.5billion spend to 2017 is just the start. By 2022, total spend is expected to reach £10.3billion. And, in total, Oil & Gas UK estimates that the bill for decommissioning existing infrastructure will cost around £28.7billion, while new field projects could add another £4.3billion to the gross decom bill.
The study, which included a survey of 51 companies across the decommissioning supply chain, also reveals a confidence among the industry players that the anticipated risks are "mostly" or "partly" controllable.
The sample of 51 comprised:
o 25% operators
o 10% tier 1 contractors
o 15% tier 2 contractors
o 20% oil service companies
o 30% other (SMEs and consultants)
The respondents focused primarily on large or subsea structures:
o 65% large steel platforms
o 20% subsea structures
o 10% small steel platforms
o 5% concrete gravity bases
Main risks identified with preparation for ceasing of production include:
o Unclear scope with lack of visibility of end game
o Some confusion between late life and decommissioning among oil companies
o Approval process leading to decommissioning is not sufficiently well understood
o Evidence of sub-optimal funding in some cases
The main risks associated with post shut-down but before dismantling starts include:
o HSE and asset integrity, damage to corporate reputation
o Underperforming contractor(s)
o Poor retention of knowledge & skills
Risks were identified at every main stage through the processes leading to final decommissioning. It is clear that the resultant matrix of risk is complex and must be thoroughly understood by operators and the decom supply chain alike.
An analysis of the research will now form the basis of new guidelines which Decom North Sea hopes will underpin contract terms and conditions across the decommissioning supply chain, removing some of the uncertainties around who has responsibility for the operational risk and cost at each stage of a structure's deconstruction.
The work builds upon a research and development project first undertaken by a team of Robert Gordon University MBA students in association with Accenture and Decom North Sea.
Their brief was to look at how decommissioning work could be contracted, but while there was no agreement about the risks involved, they found that there could be no standard contracting models.
This latest phase of the research identified the main risks at each of the nine stages of a decommissioning project, before surveying Decom North Sea members to validate the list, evaluate their potential impact, controllability and ownership.
Armed with this information, Accenture and Decom North Sea believe that it is now possible to design more meaningful contracts to safeguard all parties in decommissioning projects.
With support from a number of Decom North Sea members, the aim is to deliver the first set of guidelines over the next few months.
Luca Corradi is a senior executive in Accenture's energy practice, which has an extensive business in Aberdeen. He led the joint research with Decom North Sea and analysed the findings of the survey.
He said: "How work is contracted is fundamental to ensuring the decommissioning process goes forward with confidence, however, until now almost every contract started with a blank piece of paper and little in the way of shared ground between operator and contractor.
"As a result of this study, we now have a better understanding of the risks and their ownership, which provides the basis to agree a fair set of guidelines for contracting models. While recognising that these guidelines are only the first level for contractual negotiations, we still believe that they will provide a constructive and mutually acceptable starting point."
Brian Nixon, CEO of Decom North Sea added: "This is a very positive step forward. It has proved impossible to create templated contracting models because of the complexity of this relatively new industry, but because there is now a better understanding of the risks, we can create meaningful guidelines.
"The success of this research is a measure of the commitment of the industry to work together to find ways to deal with many of the uncertainties that can derail projects. The collaborative approach adopted ensures we share knowledge and will develop consensus and a practical understanding of the issues surrounding decommissioning."