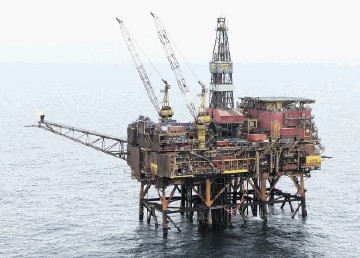 An early check on UK North Sea drilling activity indicates that there are 13 active exploration & appraisal wells including, in the southern Central North Sea, the first spud of the 2013.
Currently, nine exploration and four appraisal wells are confirmed as active, all utilising mobile rigs with the exception of one platform-based operation.
Development and production drilling (including batch) operations continue on 24 wells (16 initial legs and eight sidetracks) across 20 fields. Out of 22 drilling units active all but four are mobile rigs; the remainder are platform-based.
Central North Sea
Six CNS wells are active, keeping three semi-submersibles and three jack-ups busy.
Operations continue with the Ocean Princess on EnQuest's Upper Jurassic Kildrummy appraisal, well 15/17a-28Z; on Maersk's sidetracked Ockley (Upper Cretaceous) appraisal, well 30/1d-12Z, with the Ensco 101; and Suncor's Upper Jurassic Romeo prospect, well 30/11c-6C, with the WilHunter.
At the end of November, Nexen initiated a further Jurassic Buzzard field appraisal with well 20/1-13 using the GSF Arctic III.
The last spud of 2012 (December 28) was that of GDF Suez's Talbot (formerly Josephine) appraisal, well 30/13a-11, targeting U.Jurassic sands from the Galaxy II rig and working just over 1km to the southwest of the Josephine discovery.
The first spud of 2013 accolade goes to BG's well 30/2a-10, an exploration probe on the U.Jurassic Thunderer prospect (Rowan Gorilla VI).
Various drilling operations were closed off late November-through December, including Nexen's U.Jurassic Polecat East appraisal, 20/4a-11 (GSF Arctic III) which was abandoned after 33 days and Premier's Palaeocene Cyclone exploration probe, well 21/7b-4 (WilPhoenix), which was plugged and abandoned after 22 days.
Northern North Sea
Four wells are active in the NNS. They include completion operations on Taqa's East Cormorant (previously Contender) well 211/21-N94 which was drilled from the Cormorant North Platform; Taqa/Fairfield's South Hutton well 211/27e-13 – now in sidetrack (Ocean Nomad); while new spuds include the same consortium's well 211/27a-14 on the Middle Jurassic Darwin prospect with the John Shaw; and Total's well 3/15a-16 on the M.Jurassic Laphroaig prospect (Sedco 714). The last mentioned marks a second attempt to drill a structure that was not fully evaluated during 2010 due to rig problems.
Total's Fettercairn well 3/15a-15Re (M.Jurassic) was abandoned after 92 days early in December, the Sedco 714 moving a short distance to Laphroaig.
West of Shetland
Out west, BP's well 213/25c-1V remains active on the North Uist/Cardhu (U.Jurassic/Palaeocene) prospect (Stena Carron). And, while the West Navigator drillship on location at DONG's suspended Glenrothes well 208/11-1, there is no confirmation that the hole has indeed been re-entered.
Dong's Well 208/17-3 on the Palaeocene Cragganmore prospect (West Navigator) was P&A after 66 days early in December, the drillship moving back to Glenrothes.
Southern North Sea
The Swift 10 continues operations on Shell's SNS Denver prospect, Well 49/20a-8, targeting Rotliegendes sands, is part of Shell/NAM's Permian Basin SWEEP operation.
Irish Sea
Centrica spudded Whitehaven exploration well 113/27b-9 in mid-December targeting Triassic hydrocarbons using the Noble Byron Welliver, which previously drilled the operator's Rhyl North Triassic appraisal well 113/27b-8, presumably completing it for production.
2012 thoughts
Based just on E&A wells spudded, its a little early to give a fair assessment of 2012 in terms of discovered hydrocarbons, given that eight of the nine exploration wells currently active started last year.
As anticipated, while 2012 drilling levels were up on 2009 and 2011, the 2010 "target" of 28 exploration and 20 appraisal spuds (48 in total) was missed.
The provisional tally is 44 spuds . . . 24 exploration and 20 appraisal wells. Additionally 17 sidetracks were recorded (seven exploration & 10 appraisal), six re-spuds and two re-entries.
NORWAY
2012, a most satisfactory year on the NCS
Nine E&A wells are currently active in Norwegian waters, two up since last reported although of the six exploration and three appraisal wells operating, two of the latter are in the process of abandonment. In total, some 34 mobile drilling units remain in the sector.
Five wells are active in the North Sea. They include Dong's exploration probe, well 3/7-8 S spudded early December (Maersk Giant); Lotos' first Norwegian spud, well 7/8-6 S, on the Skagen prospect (Maersk Guardian); Statoil's Johan Sverdrup appraisal well 16/2-15, currently abandoning (20 metres good quality reservoir encountered); and Lundin's sidetracked appraisal well 16/2-16 A (Transocean Winner), also on Johan Sverdrup which was 2012's E&A hotspot.
Wintershall's dual-objective exploration probe, the Asha/Noor well 16/1-16 (Bredford Dolphin) was abandoned as an oil find in early December and a sidetrack is planned. Total's Garantiana appraisal sidetrack, well 34/6-2A (Borgland Dolphin) was P&A in mid-December, having encountered oil.
There are three active Norwegian Sea wells, all recent spuds and all exploratory. The Transocean Arctic spudded Wintershall's well 6407/1-6 S on the Rodriguez/Santana prospect on December 8; the Transocean Barents started Maersk's well 6506/6-2 two days previously and the West Alpha began drilling operations on Statoil's Lovund prospect, well 6610/10-1, which is the sector's first spud of 2013 (January 2).
Statoil's well 6607/12-3 targeting the Jette prospect with the West Alpha was P&A at year-end as a sub-commercial gas discovery.
In the Barents Sea, just one well remains active namely Eni's Goliat appraisal well 7122/7-6 (Scarabeo 8). Currently being abandoned, the well which was drilled on an untested fault-block, successfully encountered Triassic oil-bearing reservoir as anticipated.
The tally for the NCS in 2012 came to 37 spuds (28 exploration and nine appraisals) plus five sidetracks (all in appraisal legs). Undisclosed mechanical sidetracks will presumably increase these numbers. Just one re-entry was recorded during the year.
As with the UKCS, a relative flurry of new drilling activity got under way during December, so ensuring that activity levels remained respectable; in fact four exploration spuds ahead of the UK.
For sure, more oil and gas will have been found in the Norwegian sector last year than in British waters. Quite how much will emerge over time as companies complete their assessments.
Recommended for you

UK well slot: Orlov awaits after Edinburgh dud