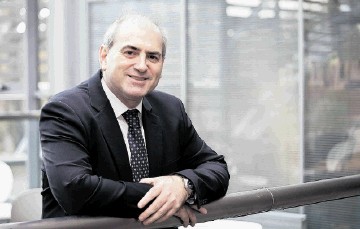 Ten years ago, North Sea people viewed the Middle East as an onshore play with some shallow offshore tacked on. On the face of it this was not a target market for UK companies and technologies honed in north-west Europe's hostile maritime environment.
In essence, they were perceived as different worlds; they still are, but market forces are different today. The region increasingly needs sophisticated solutions as the easy oil has largely gone and EOR (extended oil recovery) has become the name of the game, and gas is assuming greater importance as an export opportunity.
This is helped by the fact that international oil companies are making something of a comeback in what is a region ruled by national oil companies. So the time is ripe for Scottish/wider UK companies in the offshore supply chain to reconsider, according to Hugh Fraser.
This is not an either/or situation; it is complementary.
Fraser is a lawyer by trade and was for some time head of legal at the John Wood Group. However, about a decade ago, he set up Hugh Fraser International (HFI), a "specialist legal and business consultancy focused on the international oil and gas industry in the Middle East".
He started out pushing from offices in Aberdeen, but later packed his bags and moved the family and core of HFI to Dubai and started pulling.
Fraser sees rehabilitation of the IOCs happening across the Middle East; radically so in Qatar's case.
"And we're now seeing it happen with Adnoc in Abu Dhabi too," he told Energy.
Importantly, with the rise of the NOCs over the past 10 years, North Sea companies are realising that they can also do business with them as they become increasingly receptive to outside influences.
"I'm finding that my clients are not only getting in through the IOC food chain, they're actively targeting NOCs too. The largest of all, Saudi Aramco, is seen as being very receptive," said Fraser.
"My perception is that they're mostly focused on EOR for obvious reasons. Some years ago, an oil and gas investment banker, the late Matt Simmons, challenged the Saudis in a dramatic manner and they appear to be responding to that.
"For the North Sea fraternity that I represent, they feel Saudi Aramco is very much listening to what they have on offer. If they can position themselves properly, they will win contracts.
"Take Petrotechnics, which was recently awarded a contract with Saudi Aramco.
"To have Saudi Aramco as a client is a real seller for companies looking for contracts around the Gulf. A Saudi Aramco deal is a badge of honour."
But Fraser warns against trying to compete in engineering, procurement and commissioning (EPC) work as that is in the hands of Asia-Pac companies, especially Indian.
It's not just the Middle East, however. Fraser sees the UAE especially playing a role in the culturally diverse Eastern Mediterranean where exciting new gas plays are opening up; and in East Africa where huge gas discoveries are also being made and where trading links reach back millennia.
Fraser: "I had dinner not so long ago with Alex West of Oceaneering. He said that the company doesn't do any business in the Middle East but is based there because it does a lot in the likes of Australia.
"It raises questions about whether more companies from Aberdeen could do the same. Look at the UAE, with favourable taxation, world-class infrastructure, excellent connectivity, and a tolerant culture where it is easy for Westerners to live."
And his view of East Africa?
"Absolutely, no question about it, it's a prize on our doorstep.
"It's very exciting for me. I think companies will be able to see a balanced portfolio of core Middle East activity plus this brand new frontier, deepwater market where North Sea companies really do have an edge.
"However, I see West Africa as different. It is easier to channel it out of London and Houston."
Fraser said that, last year, HFI partners assisted 20-25 North Sea companies that were either entering or expanding in the Middle East, in quest of contracts in the region or using it as a strategic eastern hemisphere hub.
Traditionally, a volatile part of the world, though with a veneer of stability, the value of oil and gas as the primary economic wealth generator can no longer be taken as a given.
Huge new gas discoveries in the likes of East Africa coupled with the shale gas revolution in the US and major hydrocarbons successes throughout the Americas threaten Middle East dominance. And it has happened in just five or so years.
"What does that mean for the Middle East?" asked Fraser. "Of course, they're increasingly looking eastwards towards Asia. However, I'm sure there is mounting concern within the Middle East as to what the future holds, especially for its gas.
"I'm trying to work out where things will be in 10 years time. How do I position my own practice for the future? Regardless of what happens I see more opportunities than threats.
"Look at the situation in the UK . . . all doom and gloom. But step into Aberdeen where the economy is oil and gas driven and it's a different world.
"And the oil and gas supply chain that resides there faces a fabulous set of opportunities around the world and, by and large, is pursuing them.
"It would have been nicer to see more companies remain independent, perhaps floating on the stock market and not being taken over by foreign interests, so providing a stronger Scottish contingent than is the case today.
"I just wish there were more of them," Fraser added.
Recommended for you

Energy price cap to be updated quarterly ahead of 'challenging winter'