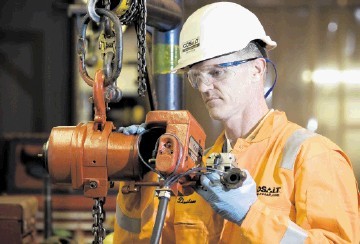 Engineering firm Cosalt said yesterday it was in talks over the potential sale of its Aberdeen-based offshore division.
The Grimsby company said it had also held discussions with parties interested in its workwear arm at Stockport as it continued to negotiate with lenders over its debts.
Cosalt said there was no certainty a deal would be done for the offshore business, which employs 240 people, but it is understood several firms have shown an interest.
Among the suitors believed to be considering acquiring the division is ATR, although a spokesman for the Aberdeen-based oilfield service provider said it could not comment on speculation.
Cosalt, which has debts of about £17million, said yesterday it was committed to safeguarding jobs but added that the proceeds of any sale would be used to pay creditors – including its two banks and chairman David Ross – and that shareholders were unlikely to receive any cash.
A statement from Cosalt said the firm continued to hold talks with its lenders and the trustees of its main defined benefit pension scheme to find a solution to its financial difficulties.
It added: "The company also confirms that, while those discussions are not yet concluded, it is in discussions with third parties regarding the sale of the operating divisions, Cosalt Offshore and Cosalt Workwear. Discussions with all parties are continuing and there can be no certainty that any agreement will be reached, either with creditors regarding a solution to the group's financial position or with potential acquirers of the operating businesses."
Cosalt said it was focused on securing the long-term future of both its offshore and workwear arms and securing jobs, adding: "The directors also acknowledge the important role of these two businesses within their local communities."