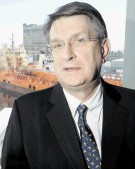 Following a decade of fiscal instability and investor uncertainty, in which we could have been forgiven for believing the UK Government was just cashing in its chips, the coalition has now established a new approach on tax and is working towards an industrial strategy for oil and gas for the long term.
It is clearly committed to promoting investment in the UK's oil and gas reserves.
This has had a positive effect on investor confidence and interest in the UK continental shelf; capital investment last year soared to well over £11billion. With improvements to the tax regime as a result of better engagement with the Treasury, no less than 30 new offshore oil and gas developments were approved in the past 12 months and 167 new production licences were awarded in the latest licensing round.
This upturn is set to continue and presents excellent business opportunities right across our world-class supply chain to the benefit of the UK's energy security, balance of trade and tax revenue. Maybe most importantly at this time, however, it has, as predicted, resulted in thousands of new and well-paid jobs.
In the past six months alone, Statoil announced a £4.3billion investment in its heavy-oil Mariner project resulting in 700 jobs and Talisman committed £1.6billion to the Montrose area redevelopment, creating more than 2,000 jobs. Meanwhile, GDF Suez announced a £1.4billion investment in the Cygnus gas development which will create 1,200 jobs and Dana Petroleum committed £1billion to develop its Harris and Barra fields.
There is no other industry in Britain creating more jobs than the UK oil and gas industry. It is something we should feel very proud about.
However, we must not get ahead of ourselves.
To reverse the production decline of the past few years we must keep our foot on the pedal.
We must ensure that new projects continually come through to make up for falling production from the older fields. We have to run fast just to stand still, and we need to do better than just stand still.
My recipe is threefold.
First, we must work together to apply the best, leading technologies in all that we do to radically improve the effectiveness and efficiency of our operations.
Second, we need to increase the pace of exploration to locate the many billions of barrels that are yet to be found. The government's successful 27th licensing round is a good step in the right direction but we need to drill more wells, and more successful wells at that.
Third, people are the real key to success so we need to put huge effort into training and developing people. It is encouraging that collaborative efforts – such as those providing transfer training to people under threat of unemployment – are beginning to bear fruit. We must also remember to provide opportunities to the entire talent pool; not just the male half.
Malcolm Webb is chief executive of industry body Oil and Gas UK