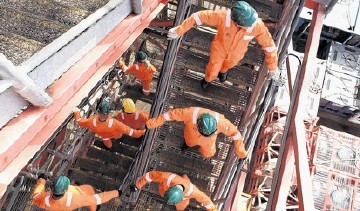 Work on a new platform which will help to unlock a series of UK North Sea gas fields could start this year, it was revealed yesterday.
Serica Energy, which operates the Columbus field, said bids from contractors to build the structure, which would be bridge-linked to BG Group's Lomond platform, were due in by the end of the first quarter of this year.
Subject to a bid being approved, work building the installation could start this year, said Serica.
It would unlock Serica's Columbus field plus Dana Petroleum's Arran fields and additional satellite fields around BG's Lomond platform.
However, the project has already been hit by lengthy delays, attributed to "complex issues involving availability of infrastructure in the area".
Discovered in 2006, by 2008 it had been hoped the Columbus field could be online this year – it is now predicted to be on stream in mid-2015.
The development comes as London-based Serica is starting to ramp up its overseas exploration programme.
It said it was hoping to make a decision over drilling an exploration well offshore Namibia, funded by partner BP, later this year.
It is also looking to drill two wells offshore Morocco, funded by partners Genel Energy – led by former BP boss Tony Hayward – and Cairn Energy.
Serica said it was also looking at the potential to drill on the Boyne and Liffey prospects offshore Ireland in the Slyne basin with partners in 2014, plus the Muckish prospect in the Rockall basin.
However, the firm added that funding for its work offshore Ireland and to cover its share of the Columbus project was still being evaluated.
Chairman and interim chief executive Tony Craven Walker said: "Serica has a very busy year ahead of it, during which we expect to see a number of the projects, which we have worked hard to bring forward, start to demonstrate their real value.
"In difficult financial markets the company has had to operate with limited cash resources, and that continues to be the case.
"But, the success of our 2012 farm-out programme has resulted in the major benefit of carried interests over large parts of our portfolio."
Recommended for you

BP fielding final bids for package of North Sea assets