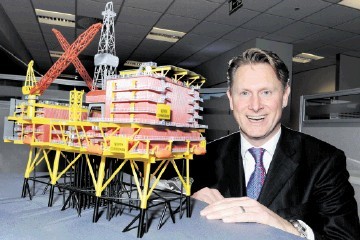 At the helm of Westhill-based Taqa Bratani, Leo Koot has been able to chalk up some significant achievements.
He became managing director of the six-man firm in 2007 and by the end of 2008 it had agreed a major acquisition of assets from Shell and Esso and had annual production of 3.8million barrels of oil equivalent (boe).
Last year, production was more than 28million boe and today the business estimates it supports about 2,500 jobs.
In Mr Koot's new role, it will be a very different story. Instead of building a business in an established basin by buying mature assets, Taqa's new operations in the Kurdish region of Iraq will be starting from scratch in an area ravaged by war but seen as one of the hotspots of global exploration.
Taqa paid nearly £370million for a controlling stake in the Atrush block last month.
"The opportunity is huge," said Mr Koot, who will also be in charge of Taqa's power and water business in the region from about the middle of this year.
He added: "For people living locally, it will be about hearts and minds. The population is still recovering from a war zone.
"The very mature nature and thinking in the North Sea on safety and sustainability are also on a different level there.
"People still have to negotiate minefields to get home. We will be helping to create a stable environment, creating schools and medical facilities."
It will be a big task, but there is also a big prize not lost on the world's biggest oil firms. For Taqa, it is a controlling stake in an exploration block thought to contain half a billion barrels of oil reserves.
For the North Sea, the Iraq acquisition was also an opportunity, said Mr Koot.
"Taqa could not have built Taqa Bratani here without Aberdeen's knowledge and supply chain," he added. "I'm keen to do the same for Kurdistan.
"Our plan was to create a centre of excellence in Aberdeen and then expand and grow our footprint. We will be drawing on experts from here, internally and through the supply chain, to help us do that."
Taqa's North Sea Cormorant Alpha platform hit the headlines last week after a leak was discovered in one of its concrete legs, leading to it being shut down and non-essential staff removed and the shutdown of the Brent pipeline system.
The Brent system, a key North Sea pipeline, was reopened days later and this week Taqa said it was back up to full flow at 80,000 barrels of oil per day, but that Cormorant Alpha was still closed and work was ongoing to halt the leak and make repairs.
Mr Koot said yesterday: "The situation in the platform leg is stable and being actively managed, while progress is being made towards repair."
The oil boss, who started his career with Shell at Lowestoft but relocated to Aberdeen in 2000 to join WellDynamics and later moved to Energy Development Partners, will leave Taqa Bratani having built a business now eyeing major development opportunities. He said: "To come into the company with a headcount of six and still negotiating the Shell and Esso deal, then building an efficient company has been tremendous.
"We've taken over dutyholdership, bolted on another acquisition with BP assets last year, all while drilling wells and doing third-party business.
"We've turned Taqa Bratani into a meaningful business with clout in the UK. Now we have got a strong resource base, so I see the focus shifting to exciting large projects."
This includes Cladhan in the northern North Sea; a relatively recent discovery in which it increased its stake and took over operatorship of last year.
A recent deal with Fairfield saw it pick up a 50% stake in the North Sea Darwin area, estimated to contain 500million barrels of oil in place and requiring new development.
Taqa is also planning investment on the Harding field, which it agreed to buy from BP late last year.
All that makes for a positive future of growth and investment for Mr Koot's yet-to-be decided successor, expected to take over mid-year.
He said: "The North Sea is by no means a dying province. With the right mindset and the right companies, I think there is a long-term future ahead."
However, he added the future strength of the North Sea would rely on creativity and positive energy."
Recommended for you

Call for 'passport' to help North Sea oil workers transition to renewables