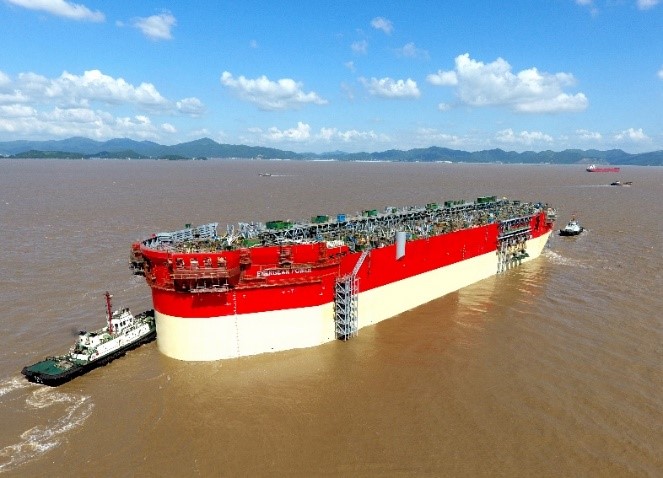 Energean is on a path to transformation, with capital expenditure peaking in early 2022 and delivering – hopefully – 200,000 barrels of oil equivalent per day in 2023.
"Energean is very different from the company that listed in London in 2018," the company's CEO Mathios Rigas told Energy Voice. The company is on its path to paying sustainable dividends, once its Israeli project comes onstream, and with significant ESG commitments.
Buying a package of assets from Edison played a significant role in Energean's transformation. Including the Edison assets gives Energean an effective production rate of 48,300 boepd in 2020, up from 3,300 boepd in 2019.
Revenue increased to $336 million, from $76mn. Operating cash flow reached $137mn, from $36mn.
"It was absolutely the right thing to do, the Edison deal. It added to our capabilities, increased revenue and production and came at a great price. The lesson is that when you have a seller who is selling for strategic reasons you will get a good deal," Rigas said.
There have been some problems along the way. Under the deal, Energean acquired stakes in the UK and Norway, which it had hoped to sell on to Neptune Energy.
Energean abandoned the Norway part of the deal but took the UK interest. The company is working to sell the assets to an alternative buyer, Rigas said.
Country risk
The company was also buying Edison's stake in Algeria's Reggane Nord project.
"Algeria blocked the sale," Rigas said, noting other problems in the country with foreign investment such as Total's thwarted move on Occidental Petroleum's assets and Sunny Hill Energy's recent licence cancellation.
The country is "sending a clear message that international investors are not welcome. That's a strange strategy in today's environment," the CEO said. Rigas went on to say he would prefer to invest in "countries that are more open and have protection from courts, without that country risk".
Energean took final investment decision (FID) on two projects at the start of the year, in Egypt and Israel. Both plans have IRRs of 30-40%, he said.
The Karish North project in Israel should reach first gas in the second half of 2023, while the NEA/NI project in Egypt will reach first gas in the second half of 2022.
"These are two key projects for us," Rigas said. Israeli domestic demand for gas is around 11 billion cubic metres per year, with the executive predicting it would reach 25-30 bcm.
Increasing gas production from a "discovered resource is a no brainer", he said.
Energean expects the Egyptian project will maintain output from a mature field. Failure to invest in new capacity would see this becoming uneconomic.
ESG financing
"The limiting factor is always the availability of capital," Rigas said. Energean raised a $2.5 billion bond in March. The cost of capital is low under this facility, he continued, "but most importantly it demonstrated $10bn of demand. There are investors out there who want to back the right company."
Energean's ESG strategy plays a part in securing this capital, he said. "Any company without a net zero strategy will not have a licence to operate … they will become extinct."
Energean is tackling this by contracting renewable energy for its assets, cutting its scope 2 emissions. It is also working on carbon capture and storage (CCS) plans for mature oilfields.
The company will test its CCS plans at the Prinos field. It may be able to store 50 million tonnes of CO2 at the Greek site. Should Energean reach FID on Prinos this year it can benefit from European Commission funding.
Recommended for you

Energean bumps up Abu Qir output