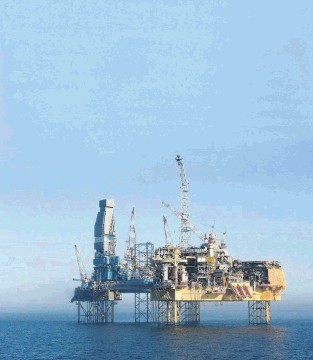 A North Sea platform which has been shut down for 10 months costing hundreds of millions of pounds in lost revenues is on the verge of being restarted.
The Elgin installation has been out of operation since March last year – costing French offshore giant Total £1million a day in lost production.
Yesterday, the company's chief executive, Christophe de Margerie, said the gas field 150 miles off Aberdeen would be restarted "within days or weeks".
However, the firm still needs to get the backing of the Health and Safety Executive (HSE) to resume operations.
It is hoped approval of a safety case, which North Sea companies must have before they can operate platforms, will be given by the HSE before the end of February.
A spokesman for the HSE said: "We have received the safety case in question from Total and are considering our response."
If there is a major incident, it is rescinded and has to be resubmitted to the HSE to be approved again.
An investigation into the leak and its cause is still ongoing.
Mr de Margerie, who was speaking at the World Economic Forum in Davos, had previously said he hoped the Elgin platform would be up and running again before the end of 2012.
He also said previously the leak would cost £186million-£238million in lost production.
Total's production from the platform was 55,000 barrels of oil equivalent per day before the leak.
It is estimated the Elgin platform produces 3% of Britain's gas and is one of the deepest and most highly-pressurised wells in the world.
Total has said it thinks the gas and condensatehad leaked into part of the well deep beneath the seabed from a reservoir it had not been tapping, above where the well had previously been plugged.
This then leaked out of the well head on the platform.
The Elgin platform is fed by four fields – Elgin, Franklin, Glenelg and West Franklin.