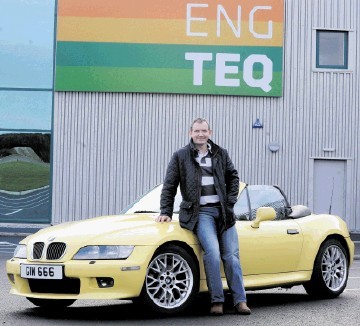 When Innes Walker told friends that part of CAN Group would be renamed, he was met with shock.
"They couldn't believe we were rebranding something which already had an established name behind it," the director of the energy service company said.
Mr Walker added that the introduction of Engteq as the new name for CAN's asset-integrity and engineering service work was the right thing to do, however, and would help both businesses to grow.
The 45-year-old said: "What ran through the company was our experience in industrial rope access, which CAN introduced to the North Sea in the 1980s. That is what the name is now most known for but there were limits on the brand and how far we could extend it, which is one of the reasons for giving Engteq its own identity."
The former Aberdeen Grammar School pupil said CAN, which was formed in 1986, still had plenty to offer the North Sea industry, not only in rope access but also in lifting gear and electrical services.
The development of Engteq comes as CAN continues to grow.
Mr Walker joined the business in 1990, when it employed fewer than 50 people. It now has a workforce of more than 900 and annual turnover of around £70million.
He said he nearly didn't make it to his first interview with the company however.
"When I graduated from Abertay University we were in recession, so at the time Aberdeen and London were the only parts of the UK economy which were flourishing.
"I came home to Aberdeen and started working for a printing business run by a friend's family, but had also left my details with a recruitment agency.
"I drove down to Penicuik one day for a delivery of paper, and just as I arrived I got a phone call saying I had an interview at CAN in Altens in two hours. I had to shift a tonne and a half of paper manually by myself, get back on the road and get to Altens, but I had to turn up for the interview in a pair of old jeans and a T-shirt because I had gone straight there in the company van.
"Fortunately I was called back the next day for a second interview; I decided to wear a collar and tie this time and was successful in my first and only job interview."
Mr Walker joined CAN as an administrator, but soon climbed the ranks and was on the board by 1996.
Outside work, Mr Walker said his time was devoted to wife Allison and 14-year-old son, Matthew, or to his cars.
He added: "I have just always been interested in cars; I have a small collection of cars already, to my wife's annoyance.
"I have a BMW Z3 and an old Fiat, which my wife wants me to get rid of but I refuse to because every time I turn the ignition it puts a smile on my face."
Mr Walker also smiles when he considers CAN's future, as he is confident there is still huge potential for the company.
He said: "Creating Engteq is a major move for us and is taking us a big step forward in our plans, but there is still a long way we want to go. I think there are other brand names we can create . . . Engteq is just the start."
Recommended for you

Gallery: Memorial service held in Aberdeen to mark anniversary of Piper Alpha