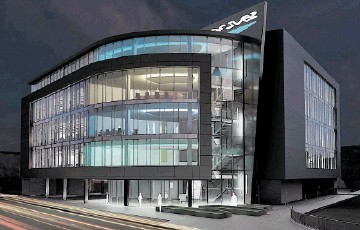 Work has started on new Aberdeen headquarters for GDF Suez Exploration and Production (E&P) UK.
Property developer Miller Cromdale has contracted Mansell to build the 40,000 square-foot office complex in North Esplanade West.
The £16.1million project is financed by investment fund manager Tritax, which will take ownership of the five-storey building on completion.
GDF Suez has signed a 15-year lease and expects 150 of its employees and contractors to move in during the third quarter of 2014.
Miller Cromdale development director Pamela Grant said: "Work has already started on site and we now look forward to delivering.
"North Esplanade West is a prime office location offering views across the River Dee. This latest development further complements the work that we have been involved in to regenerate the north Dee business quarter."
Miller Cromdale is a joint venture between the development arm of Scottish construction firm Miller Group and Aberdeen company Cromdale.
Tritax partner Colin Godfrey said it was attracted to the GDF Suez project because of the high quality of building design, the strength of the tenant's covenant and Miller Cromdale's excellent track record for delivering offices in Aberdeen.
GDF Suez operates from three sites in Aberdeen, where it expects its new building – replacing offices in Union Plaza, Holburn House and City Wharf – to eventually house up to 200 people.
GDF Suez E&P UK managing director Jean-Claude Perdigues said: "The new Aberdeen office underlines our commitment to the UK North Sea as we invest in existing and new exploration and production developments."
Paris-based GDF Suez has had a presence in the Granite City since 2009.
It announced its intention to find a new base in Europe's energy capital last year, saying it needed more space to support growth in the North Sea.
The company is one of the world's leading energy providers, employing nearly 220,000 people globally.
Its UK assets include a 38.75% stake in the £1.4billion southern North Sea Cygnus development, due to come on stream in 2015. Partners in Cygnus, which will be operated by GDF Suez, are Centrica (48.75%) and Bayerngas (12.5%).