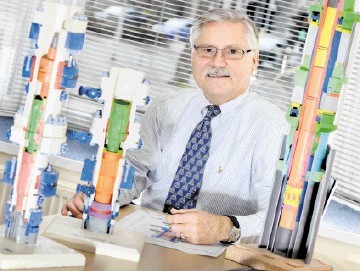 The founder and chief executive of Aberdeen engineering and service business Plexus Holdings has been named Entrepreneur of the Year 2013.
Ben van Bilderbeek was recognised at the Grant Thornton Quoted Company Awards in London.
The honour, in its third year, recognises business leadership within young growing companies.
Runners-up included Stephan Shakespeare, CEO of market research firm YouGov and Bill Dobbie, co-founder of UK-listed online dating company Cupid.
Plexus supplies equipment for oil and gas exploration and production and has built its success on the development of a friction-grip method of sealing wellheads and connectors used under high pressure and high temperatures.
Mr van Bilderbeek said: "I am delighted to accept this award on behalf of my management team and staff who have helped to build Plexus to where it is today. We all look forward to focusing on delivering the many value-creating opportunities that will present themselves in the future."
Following a career at Vetco, he founded Plexus in 1982. The firm began patenting the friction-grip method in 1997, which is now used on more than 300 wells worldwide.
After winning significant contracts with companies including BP, Plexus joined the Alternative Investment Market in 2005; raising £11million and achieving a market capitalisation of about £40million.
The company, with offices in London, Cairo, Kuala Lumpur and a presence in Houston, is leading a joint industry project to address design deficiencies which came to light after the Deepwater Horizon disaster in the Gulf of Mexico.