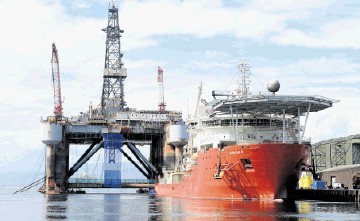 Activity levels have tailed off slightly over the last fortnight meaning that 10 E&A wells are operating on the UK Continental Shelf, two down on the previous month.
Exploration dominates with seven wells while three appraisals are active. All current activity is based on mobiles: two drillships in the West of Shetland sector.
Of the current pool, four are initial holes (spuds), five wells are in sidetrack and one of the deep-water wells is a re-entry. As January closed, just one spud was recorded.
Development and production drilling (including batch) operations continue on 20 wells, 11 of which are initial legs; the remaining nine are sidetracks. These current wells cover 17 UKCS fields and all but three are utilising mobile rigs, the exceptions being Chevron's Alba, Apache's Forties and Total's North Alwyn platforms.
Central North Sea
In the Central North Sea four wells are active. EnQuest's Upper Jurassic Kildrummy appraisal, well 15/17a-28Z, continues with the Ocean Princess. Maersk's long running and sidetracked Ockley (Upper Cretaceous) appraisal, well 30/1d-12Z, using the Ensco 101 is presumably undergoing extensive testing.
GDF Suez's Talbot (formerly Josephine) appraisal, well 30/13a-11 is targeting Upper Jurassic sands with the Galaxy II. The only spud this year, BG's well 30/2a-10 on the Thunderer prospect (Upper Jurassic) is progressing using the Rowan Gorilla VI.
Suncor's U Jurassic Romeo prospect, well 30/11c-6C (WilHunter) was abandoned with poor quality, thin hydrocarbon-bearing sands after 112 days. The rig will next drill block 20/5b, Suncor's U Jurassic Scotney prospect.
Early month saw Nexen abandon the 35-day Jurassic Buzzard appraisal, well 20/1-13, ending its contract for the GSF Arctic III, which moved to the Causeway field on NNS block 211/23d, on sub-let to Valiant from ATP, prior to drilling the company's Handcross prospect in block 204/18.
Northern North Sea
In the NNS, three wells are understood to be active now that Taqa's East Cormorant (previously Contender) well 211/21-N94, drilled from the Cormorant North platform, completed in late December and was turned over to production in mid-January.
Taqa/Fairfield's South Hutton well 211/27e-13Z continues with the Ocean Nomad, but operations on the group's Middle Jurassic Darwin prospect, well 211/27a-14, have terminated given confirmation of the Transocean John Shaw's arrival on block 211/11b to resume operations on MPX's prematurely suspended Timon exploration well 211/11b-7.
In May 2012, operations were terminated due to problems associated with the WilHunter. Total's well 3/15a-16 on the M Jurassic Laphroaig prospect with the Sedco 714 was sidetracked for mechanical reasons on January 28.
West of Shetland
Two wells are active WoS; BP's well 213/25c-1V is on-going on the North Uist/Cardhu (U Jurassic/Palaeocene) prospect with the Stena Carron, whilst the West Navigator returned in December to resume drilling operations on DONG's suspended well 208/11-1 on the Tertiary Glenrothes prospect.
Southern North Sea
The SNS is once again devoid of E&A drilling, now that the Swift 10 has abandoned Shell's Denver prospect, well 49/20a-8, after 57 days. The rig's next location is to be confirmed but is expected to be a further probe for Shell/NAM's Permian Basin SWEEP operation, ahead of Carrack field production drilling.
Irish Sea
In the East Irish Sea Basin, Centrica's well 113/27b-9 on the Triassic Whitehaven prospect is understood to be nearing completion following testing. The Byron Welliver jack-up is likely to remain in the area to drill the Ventnor prospect on block 110/8a, a potential satellite south of Morecambe South field.
As befits the season, weather conditions typically take a toll on drilling operations as one year closes and another begins. 2013 is no exception. But the single well spud compares unfavourably with two at this time last year.
The jury remains out on 2012. While potentially commercial reserves were scarce, technical success maintained the hit rate to some degree. To bolster a mediocre year, exploration success would be required from 2012 on-going programmes, namely Darwin/South Hutton in the NNS, Whitehaven in the EIS and Glenrothes & North Uist/Cardhu in the Atlantic Margin.
No let up offshore Norway as five wells spud in January
On the Norwegian Continental Shelf, seven E&A wells are currently active including four of the five wells, all exploratory, that spudded last month. Of the current wells, just one is an appraisal.
Five wells are active in the North Sea including DONG's exploration probe, well 3/7-8 S, spudded early December by the Maersk Giant. Lundin's Ogna prospect, well 8/5-1, spudded by the Maersk Guardian; Lundin's Johan Sverdrup (Avaldesnes) appraisal. well 16/3-5; Lundin's exploration probe, using the Bredford Dolphin, and two Statoil exploration wells, 25/11-26 with the Ocean Vanguard and deviated well 34/8-15 S with the COSL Pioneer (SS) were all January starts.
Finishing operations last month were Lotos' well 7/8-6 S on the Skagen prospect with the Maersk Guardian; the 58-day hole being abandoned dry with poorer U Cretaceous reservoir than expected. Statoil's Johan Sverdrup appraisal, well 16/2-15 was abandoned with 20m of good quality reservoir encountered; and Lundin's sidetracked appraisal, well 16/2-16 A, also on Johan Sverdrup, was abandoned late in January as a further successful delineation of the vast accumulation.
There were two active wells In the Norwegian Sea . . . Wintershall's well 6407/1-6 S on the Rodriguez prospect (Transocean Arctic) and the Transocean Barents progressing exploration drilling in Maersk's 6506/6-2 well. Statoil's Lovund prospect, well 6610/10-1, the sector's first spud of 2013 was abandoned dry by the West Alpha (SS) before month end.
With the abandonment of Eni's successful Goliat field appraisal, well 7122/7-6 (Scarabeo 8), the Barents Sea is currently devoid of E&A drilling activity. The well evaluated a new fault-block and penetrated hydrocarbon-bearing reservoir as expected in the Upper to Middle Triassic,
The adverse weather conditions that have been severely impacting the UK sector over the last few weeks appear not to have taken a toll on the NCS.
Simon Robertshaw's column is courtesy of North Sea analysts Hannon Westwood.
Recommended for you

Shell North Sea gas prospect dubbed a 'key' well to watch by Westwood