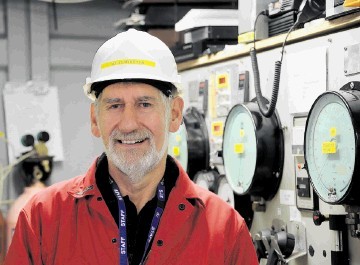 Subsea UK's 2013 conference in Aberdeen is the main event on the North Sea calendar this month and is predicted to attract thousands of delegates, including a fair-sized contingent from across the North Sea and elsewhere.
For a couple of days, the Aberdeen Exhibition & Conference Centre will heave with subsea life . . . or rather, the people who make this subset of the offshore oil and gas industry the fantastic success story that it is today.
Some will be veterans, with experience that spans decades; they've been there and done all sorts of things that the average person in the street might regard as extraordinary. Not that the individuals concerned will necessarily view it that way.
One who won't be there this time because he has literally just retired . . . or so he says . . . is Alf Leadbitter, now former diver training manager at the Underwater Centre in Fort William.
He surely ranks among the most experienced of his profession anywhere in the world, having had a highly successful career, not only as a commercial diver, but also as a dive supervisor, instructor and assessor.
Indeed, Leadbitter became involved in mixed-gas diver training in Fort William right back at the beginning of the centre in the mid 1970s, later joining the school permanently in 1989.
Moreover, he was instrumental in the creation of the course at Fort William's sister school in Tasmania, along with INPP training in France.
Alf's professional qualifications include HSE Closed Bell, Offshore Closed Bell Supervisor and Life Support Technician Certificates, along with assessor and internal verifier's qualifications.
The resume is impressive, but any commercial diver qualification is in a sense hard-won, even at elementary level because of the risks associated with the marine environment.
By any stretch of the imagination, this is a dangerous profession, but the rewards can be high, particularly in the offshore oil and gas industry where, in the 1990s, the conversation was about eliminating divers from construction and maintenance work wherever possible.
While this has indeed happened, largely thanks to the development of sophisticated remotely-operated vehicles, demand for divers in offshore oil and gas is on the increase; plus maritime renewables have opened up totally new and potentially very large opportunities for the profession.
"I still feel as if I have something to give this industry, but I don't want to be here every day," Leadbitter told Energy.
Thus far he has clocked up half a century in diving. It started at the age of 15 when his first dive was recreational, off St Abb's Head in 1963.
But when Leadbitter's interest was first kindled, he was too young to join the British Sub Aqua Club because 16 was the threshold age for getting in.
"I went to some of their local pool sessions. It was my sister's husband and his friends who were keen on diving. They were older than I and went through all the tests. The naturalist David Bellamy was in the same club," said Leadbitter.
"Once they went diving on their own I just diving with them. I pretty much learned to dive the way you shouldn't do, which is getting into the sea and trying. But when I was old enough I did join the local sub-aqua club and took all the tests."
But this was sport diving, mostly on holidays. The lad from Seaham, Leadbitter, was in his early 20s when the idea of going commercial started to vaguely form. By then he was married, had moved north of the border, had become a member of the Scottish Sub Aqua Club and was enjoying the west coast.
"I had trained as an apprentice fitter in the mines; then I left that and went to sea for two years as an engineer and then I started with British Steel, working at Hallside, next to Cambuslang. I was there for five years and was promoted from fitter to foreman."
So when did change to commercial diving start?
"I had done bits and pieces of work wearing scuba gear, mostly stuff to do with yachts and yacht clubs. It was 1975 when the Underwater Centre opened and the government started paying people to go on courses.
"It looked as if the steelworks were going to close and so I decided to try my hand at commercial diving for a couple of years. If it doesn't work then maybe I could go back to sea.
"So I did a course, got a few jobs around the Clyde; then work in Scapa Flow, helping to salvage stuff from the German Grand Fleet (Scapa Flow Salvage). By then, they were building North Sea platforms at Ardersier and so I worked there, then on the TP-1 platform when it was in Loch Fyne followed by Kishorn where the Ninian Central platform was being built."
Arguably the big break came when Leadbitter joined Ocean Technical Services, a North Sea diving company. This soaked up two years during which time he trained for his saturation diving ticket at Fort William, while also working briefly at the centre.
"That would be 1979. OTS was building a sat system; but it looked to me as if would never get finished, so I got out and went with Wharton Williams for five years, working mostly in sat mode in the Beatrice field.
"By that time I'd been made up to supervisor and, like all divers, I moved around, including working in Russia for a spell. I did my deepest dive in the Magnus field . . . 197m, a long way down.
"About four years ago I stood on a building in Paris that was 197m tall. I looked down and thought, dear me, did I dive that deep!"
And so the odyssey went on, including in the Middle East as a clients' representative, before harking back to Fort William, initially working with the school's diving bell, then instructing and later evolving into a manager.
That move had basically been triggered by the Middle East company being worked for at the time deciding that the guy in charge (Leadbetter), ought to have a degree. Happenstance he was reading for an OU degree but half a degree wasn't enough.
That contributed to the return to Fort William more than most else. Feet under the table, he then found himself being sent out to Marseilles for a while where a satellite dive centre had been set up; then back to the Fort prior to being dispatched to Tasmania in 1998 where the company had invested in a new training facility to serve the Australian sat market.
"I worked there as a manager until 2002; then back to Fort William and on to a part-time posting as an instructor.
"But then the place went bust only to be picked up by (local entrepreneur) Finlay Finlayson who asked me whether I would return to manage the diving courses and do some trips to Tasmania."
All told, Alf Leadbitter has clocked 23 years working out of Fort William.
"There's a guy who was on the same course as me in 1975 who I spoke to a few weeks ago. He had just done a sat course and was starting off on a supervisor's career, having been with the same company since the 1980s."
So why did Leadbitter dump sat diving, after all the pay tends to be excellent?
"To be honest I lost on the toss of a coin. I was out on a ship; there were two of us who were lead divers with potential to become supervisors. The superintendent on board said one of the existing supervisors had left, so one of us had to become a supervisor while the other went into sat.
"He said he didn't care how we did it. So we flipped. I tried to go for three flips but that didn't work. I lost and got to be the supervisor while Ian went into sat and got paid more than me.
"From then I just kind of got marked out as a super and moved into that world. It wasn't really planned; it just happened."
Leadbitter said a key factor for him was that money had never been particularly motivating. It was not the objective in life.
"I've been extremely lucky. I've been paid to do work that is basically my hobby."
Behind so many successful people is another person; in the male-dominated oil and gas sector that generally means "the wife".
"Yes, there's a woman in my life," said Leadbitter. "And she's been there for 42 years. In many ways working here (Fort William) was welcomed. For a start I was home every night. But like so many other things, it wasn't planned that way."
While working month-on and month-off overseas was one thing, longer spells, such as the offer of a job in Indonesia were not appealing.
"Moira wasn't keen on moving to Indonesia, so I decided to work at the Underwater Centre."
So what's Leadbitter going to do now? A return to the Underwater Centre seems certain, but on a project-by-project basis. The fact that he had a corrective operation on his heart contributed to the decision to stand down.
One way and another, over the 20-plus years that he has devoted to Fort William, Leadbitter has directly trained or been responsible for the training of 4-5,000 divers. It's one heck of a record.
Successor
As Energy went to press, news broke of Leadbitter's replacement. He is James Ridgeway – formerly subsea training manager at the National Hyperbaric Centre in Aberdeen.
He will be responsible for all aspects of training at the centre, including ROV pilot technician training, as well as commercial air and saturation diver training.
A former soldier, Ridgeway has had an international air diving career spanning more than 18 years.
Recommended for you
X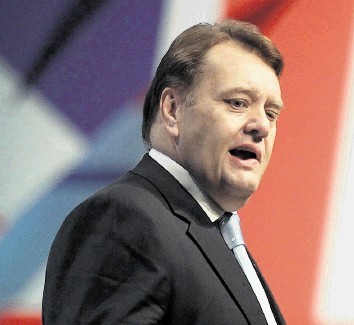 Behind the bars of Britain's political zoo