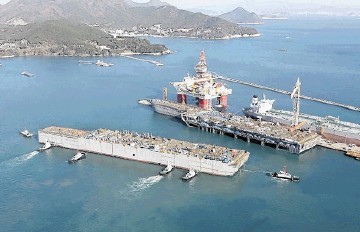 Assembly of modules for Hull No. 3401, the Pieter Schelte, started on November 26 at Daewoo's (DSME) Okpo shipyard in South Korea, since when the basic assembly work of this monster vessel's hull has been outwardly largely completed.
When this massive machine is complete it will go straight into the Guinness Book of Records as the largest ship ever built.
Pieter Schelte measures 382m length overall by 117m breadth and will have an air draft of about 30m when completed. Fully loaded displacement tonnage is expected to come in a little under 900,000 tonnes.
It will be fitted with an 86-megawatt "power station" . . . multiple diesels providing all power generation needs for driving the vessel's propulsion system, deck machinery and so-forth.
The capital cost of the vessel is in the order of $1.7billion.
DSME secured the Allseas build project in 2010 and, when commissioned, it will also rank as the world's largest platform decommissioning and pipe laying vessel.
It will be able to uplift production platform topsides of up to 48,000 tonnes in weight and transport the structure for dismantling at an onshore facility.
At the stern, two portal cranes will be able to lift jackets of up to 25,000 tonnes by means of a tilting beam system. This will enable a jacket to be progressively tilted from the vertical (lifted) position to the horizontal on the vessel's deck.
In pipelay mode it will have a designed tensioning capacity of 2,000 tonnes and be fitted with a 170m-long stinger frame for launching pipework as it is assembled.
The genesis of the Pieter Scheldte lies back in the 1980s and giant models of the concept as it evolved from two large tankers (VLCC) tied together to today's purpose-designed monster have been a regular feature at many major oil and gas shows, including OTC in Houston and Offshore Europe in Aberdeen.
Allseas began conceptual studies in the mid-1980s when VLCCs were readily available and inexpensive. However, changes in the tanker market coupled with a growing demand for older vessels for conversion to production ships and the fact that the build of very recent tonnage renders it unsuitable for this type of conversion.
And so Allseas was obliged to change course in favour of a purpose-designed new-build. By 2006, the company was ready and able to commit, but cautiously.
Long-lead items, such as the power generation equipment and the thrusters, were ordered in March 2007. In June 2008, the high-tensile steel for the jacket and topsides lift systems were ordered, with the hull placed with DSME in 2010.
The ship is named after marine engineer Pieter Schelte Heerema, father of Allseas' owner Edward Heerema. This was a controversial decision as Pieter Schelte Heerema served in the Waffen-SS during World War II.
However he later assisted the Dutch Resistance, and was released after his trial at the end of the war.
Allseas has also been developing a huge flat-iron barge in parallel with the hull construction programme. It will be able to fit in the heavy-lift "slot" between the Pieter Scheldt's hulls and be used for transporting platform decks to decommissioning yards.