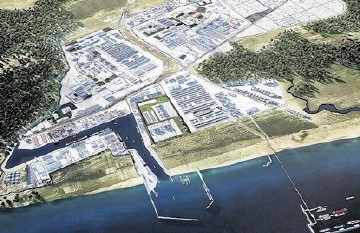 Oil and gas logistics firm Asco Group is involved in a potentially-lucrative project to develop a new port in Brazil.
No contracts have been signed but Aberdeen-based Asco will spend the next year looking at possible opportunities for it to play a key role.
A spokesman for the company yesterday said Asco could end up operating the "superport", which would create around 1,400 new jobs directly and a further 50,000 for Brazil's economy. Acu Superport is being built in Sao Joao da Barra in the Brazilian state of Rio De Janeiro.
It represents an estimated £1.6billion investment and is expected to handle 350million tonnes a year of exports and imports, much of it for the oil and gas industry.
Developers say the new facility, which will be close to an area responsible for 85% of Brazil's oil and gas production, will rank among the three largest port complexes in the world. Asco is already involved in design work under a co-operation agreement with Brazilian logistics company LLX in advance of Acu Superport becoming operational in the first half of 2014.
Asco chief operating officer Derek Smith said: "I believe Acu Superport will become the most important oil and gas enclave in Brazil over the coming years. This is a huge opportunity in the development of our global business and one of the most exciting projects we have ever been involved with."