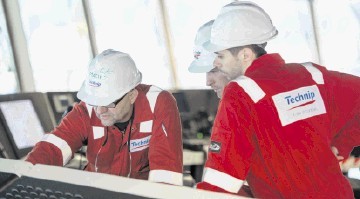 Energy service giant Technip said yesterday its North Sea business was a key factor in it growing turnover by more than 20% to £7.11billion last year.
The Paris-based builder of oil rigs and refineries, which is expanding its UK headquarters at Westhill, near Aberdeen, in an £11.8million project, forecast 2013 turnover at between £7.88billion to £8.22billion. Its 2012 total comes after turnover of £5.89billion in 2011.
Net income last year came in at £466.7million, up by 6.4% on £438.7million in 2011.
Chief financial officer Julian Waldron said the North Sea had been the fastest growing area for the business over the past three years, adding: "One of the characteristics is the emergence of the big operators in more complex projects.
"Five years ago, investment offshore was in smaller, mostly tieback projects."
Technip said increased demand fuelled a 36% rise in turnover at its subsea business in 2012 to £3.5billion. It added: "Technip starts 2013 with a substantial, profitable backlog of business to execute. We believe our markets, while competitive and never immune to general economic conditions, remain robust and growing."
Technip employs about 3,000 staff at four UK centres in Aberdeen, Evanton in Ross-shire, Newcastle and London. Its North Sea projects last year included the £562million BP Quad 204 project.
Mr Waldron said the firm's capital expenditure would total £450million in 2013, with about 85% invested in subsea work.
Analyst Guillaume Delaby, at Societe Generale, said the forecast for Technip in 2013 was very strong for both revenue and margins. He added that Technip's results should calm fears after a profit warning from Italian rival Saipem last month, which sent shockwaves through what is usually seen as a buoyant sector.