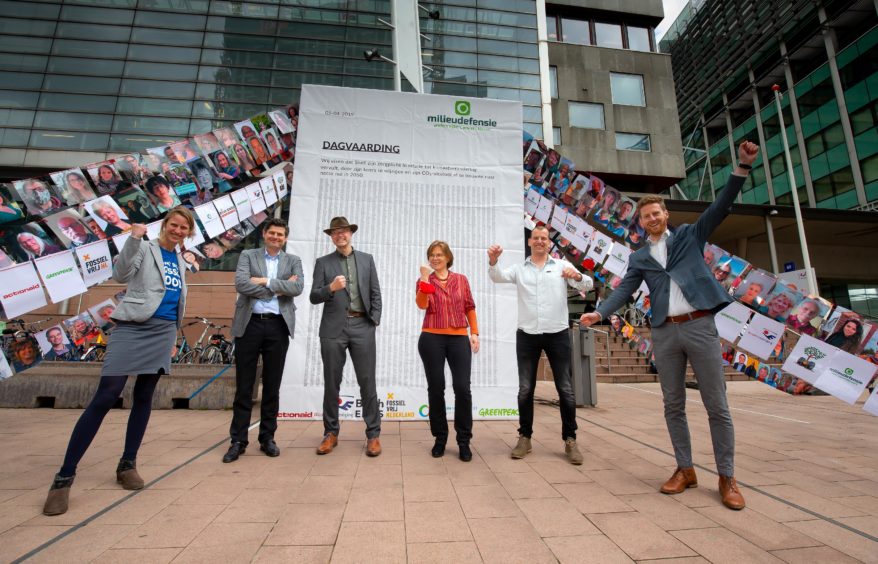 A Dutch court has ordered Shell to cut its emissions by 45% by 2030, putting pressure on the company to move faster than it had otherwise planned.
Shell, which previously set itself a target of reducing the carbon intensity of its products by 20% in the next decade, plans to appeal against the court decision, which may take another two years.
A spokesman for the British-Dutch oil giant said: "Urgent action is needed on climate change which is why we have accelerated our efforts to become a net-zero emissions energy company by 2050, in step with society, with short-term targets to track our progress."
The company said it was investing billions of dollars in low carbon energy, such as electric vehicle charging, hydrogen and renewables.
A group of NGOs and 17,000 Dutch residents brought the case. Roger Cox, a lawyer for one of the NGOs, Milieudefensie, said the verdict would have an impact in "all the countries in which Shell companies are established".
How Shell would cut its emissions by 45% is up to the board, Mr Cox said.
Deirdre Michie, chief executive of industry body Oil and Gas UK, said exploration and production companies based in the UK were making progress.
Ms Michie said: "The UK offshore oil and gas industry was the first sector to commit to the government's target of achieving net-zero carbon emissions by 2050, in line with the Paris Agreement.
"Companies are already reducing greenhouse gases through the landmark North Sea Transition Deal, developing greener technologies to cut our emissions and helping other industries to do the same."
Shell should welcome the verdict, said Milieudefensie head Donald Pols. The ruling "in all probability means that Shell gets a headstart on its competitors", he said.
Mr Pols predicted that all companies would have to move in this direction.
"How they go about it is up to Shell. It has attracted some of the smartest people in the world … Managing a transition will be a piece of cake for them," Mr Pols said.
Shareholders in Shell have warmed to the idea of asking for more action on cutting emissions. At the recent AGM, 30% of shareholders backed a resolution calling for short, medium and long-term targets. In 2020, only 14% of shareholders backed a similar resolution.
Tom Cummins, dispute resolution partner at Ashurst, said today's court ruling was "arguably the most significant climate change related judgement yet".
The importance of the ruling lies in its highlighting of the role of companies, not just governments, as "the target of strategic litigation which seeks to drive changes in behaviour".
"Oil and gas companies will be scrutinising the judgment, as will pressure groups and claimant lawyers to see whether there is scope for similar claims to be brought against other companies in other jurisdictions," Mr Cummins said.
Friends of the Earth International's Sara Shaw noted that there were as many as 15,000 such lawsuits under way internationally. She said: "We expect to see more of it. This ruling will open the floodgates to another round of cases."
The ruling applies to all emissions linked to Shell, including those resulting from using its oil and gas products. These so-called scope 3 emissions account for 85% of the company's carbon footprint.
Shell must use "significant best efforts" to reduce these scope 3 emissions, The Hague court ruled. It did not indicate how the company should go about tackling the problem, though.
Recommended for you

Climate group bringing law suit against Shell directors on net zero