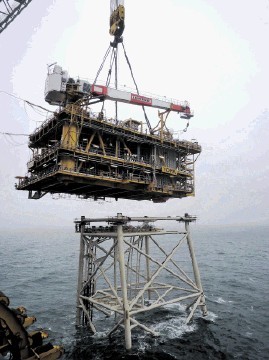 UK energy firm Centrica said yesterday net profits at its gas and oil production business rose 20% to £919million last year, thanks to an increase in production and higher output prices.
Production of gas and liquids increased to 56,700 barrels of oil equivalent (boe), from 48,200 boe in 2011, after the firm integrated three North Sea acquisitions.
Centrica, which added 170million boe of proven and probable reserves last year, said production volume was expected to increase by a further 15% this year.
The figures came in annual results showing adjusted profits across the group, including from its downstream business, jumped 14% to £2.7billion.
Jonathan Roger, managing director of the firm's Aberdeen-based upstream division, said: "Centrica Energy Upstream has seen another successful year, delivering against our commitment to grow the business through a combination of acquisitions and exploration activity.
"We have made important steps to secure and develop our cornerstone assets, as well as recruit talented people.
"We are now well positioned to optimise and develop our portfolio, both in the North Sea and internationally, and will invest to increase our annual production up to 100million boe."
Centrica had positive results from exploration drilling on Rodriguez offshore Norway and Whitehaven in the east Irish Sea earlier this year following lower levels of drilling success in 2012.
First gas is expected next month from the York field in the central North Sea.
The company expects a further boost in production from late 2015, when the £1.4billion Cygnus project in the southern North Sea comes online.
Centrica, which has a 48.75% stake in Cygnus, has substantially grown its upstream oil and gas operations since the group took over Aberdeen-based Venture Production in a £1.3billion deal in 2009.