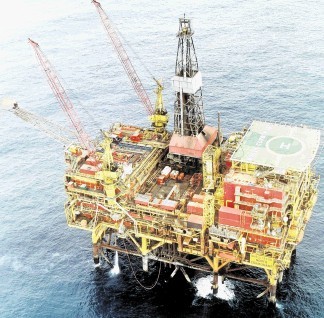 One of the North Sea's most important pipelines remained shut down yesterday following an oil leak at the Cormorant Alpha platform.
The Brent system, which produces about 80,000 barrels a day – worth more than £6million – was closed for the second time in seven weeks after oil was found leaking into a leg of the Taqa Bratani-operated Cormorant Alpha on Saturday.
A similar leak, discovered on the ageing platform on January 14, also forced the closure of the Brent pipeline for two days.
Production has also been shut down at eight other North Sea platforms which feed oil into the Cormorant Alpha – the Dunlin, Thistle, Northern Producer, Murchison, North Alwyn, Tern, Eider and North Cormorant.
Yesterday Taqa Bratani operations manager Donald Taylor said the timeframe for the pipeline re-opening was uncertain but "safety was paramount".
He added that the Cormorant Alpha, which was built in 1978 and produces 10,000 barrels of oil a day, had been out of production since the original leak was found on January 14.
He added: "The release from January 14 had been totally repaired and as a result of that we had restarted our inspection programme. This latest leak was identified as part of that inspection."
Mr Taylor said workers had been able to deal with the situation quickly and efficiently – shutting down the Brent pipeline as a precaution and carrying out a routine evacuation of non-essential personnel.
Water was then flushed through the platform's leg to remove the oil.
Mr Taylor said Taqa Bratani had invested £240million in upgrading and maintaining the Cormorant Alpha, North Cormorant, Tern and Eider platforms since 2008.
He added: "We will have to re-evaluate our inspection programme to look at this problem again.
"We are investing a lot of money in the future of all our platforms in the North Sea but money is not an issue, it is about spending it wisely to increase the lifetime of our installations."
RMT regional organiser Jake Molloy said Taqa "was throwing a lot of money at these installations", but added: "If this problem won't go away it looks like they may have to invest more."
He said: "I think the main concern is not so much for the guys on board the Cormorant Alpha; it is the shutdown of the Brent pipeline because that has forced other installations to shut down and that creates its own problems.
"I hope Taqa manage to remedy the problem and eliminate the potential for problems on the other installations that have been forced to shut down."
The Brent pipeline system pumps almost 10% of Britain's oil from 27 fields to Sullom Voe in Shetland, accounting for 37% of the terminal's input.