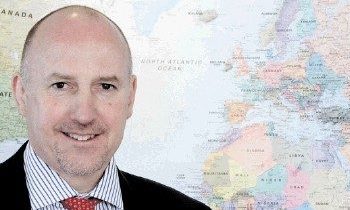 Aberdeen and the surrounding areas has built up a reputation as a hub for oil and gas service businesses over the years and Mike Beveridge believes the expertise in professional services is no exception.
He said the Granite City base of Simmons and Company International had been a springboard for the firm winning work around the world in recent months.
Mr Beveridge, 48, is one of the managing directors at Simmons, a corporate-finance adviser to the energy industry. "Aberdeen is a centre of excellence in many ways but if you look at the professional services network that puts deals together, it is a real hub and Simmons is right in amongst it," he said.
He estimated around a third of the company's work in Aberdeen was still focused on North Sea deals, but said the Granite City office had increasingly become international in its outlook since it opened more than 10 years ago.
"In those days, we were a more local business than we are now," he said, adding: "We were focused on Aberdeen, although we did win business early on across the UK and, later, (mainland) Europe.
"Today we are a larger, more international business and although Aberdeen is still an important market for us the majority of the work we do is not local to the city."
In 2012 alone, Simmons' Aberdeen office was involved in nearly £1.5billion of deals, more than doubling the previous year's total. The Granite City team was part of 14 mergers and acquisitions out of 48 the Houston-headquartered firm carried out worldwide. It is a far cry from the deals Mr Beveridge was involved with when he joined Colin Welsh and Eddie Leigh – now respectively chief executive and a fellow-managing director at Simmons – at Scottish accountancy firm RMD.
Mr Beveridge, who trained as a chartered accountant with Ernst and Young, described the trio as the "young Turks" of accounting before they set up Simmons' Aberdeen office in 1999. The firm now employs 50 people across its Aberdeen, London and Dubai offices. Mr Beveridge oversees the company's work in London and also specialises in deals taking place in the Norwegian sector. He is responsible for a 15-strong team – a situation he should be familiar with, having been captain of his school rugby team in Edinburgh.
The former Stewart's Melville pupil took his passion for rugby with him after starting his accountancy and economics studies at Aberdeen University, playing for the university team and later turning out for Gordonians.
His rugby career was brought to an abrupt halt in a pre-season match, however, when a bad leg-break ruled him out of the sport altogether.
Doctors told him he may not run again after the injury, although he now runs, cycles, swims and skis to keep fit. Despite his retirement from team sports, he wants to see the squad at Simmons in Aberdeen and around the world continue to grow. Mr Beveridge said the company wanted to add to its Dubai workforce and move into new markets.
"There are big opportunities in south-east Asia," he said, adding: "Singapore would be an obvious place for us to get people on the ground and that is part of the long-term plan.
"We have clients there, as well as in Malaysia and Thailand, and in the future we also want to have a presence in Perth, Australia, because it is becoming such a stronghold for subsea activity."
Mr Beveridge, who lives in Aberdeen with his wife, Inez, and has a son Alex, 18, and daughter Emma, 15, said the company was currently only "scratching the surface" of its potential.
He added: "We are a reasonably big player in our own sphere but if you look at opportunities in places like Norway, mainland Europe and the Middle East, you can see we still have a long way to go."
Recommended for you

Craig International unveils three new directors