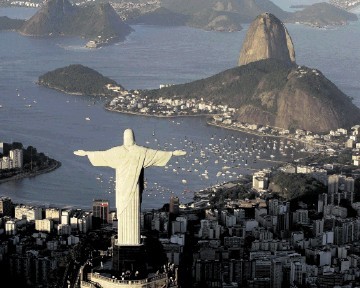 Scottish businesses are hoping for a boost from a trade mission to Brazil next week.
The visit, led by the Scottish Council for Development and Industry (SCDI) takes in the country's two largest cities, Sao Paulo – Brazil's business capital – and Rio de Janeiro.
It coincides with Scottish Secretary Michael Moore travelling to the country to promote trade links between Scotland and Brazil.
Mr Moore's schedule kicks off tomorrow, with a visit to the southern Brazilian city of Porto Alegre.
Increased trade with Brazil has become a key priority for governments around the world.
Trade and Investment Minister Lord Green has pledged to doubling the UK's exports with the country by 2015.
Scottish exports to Brazil are already worth more than £180million a year.
Holyrood politicians such as Energy Minister Fergus Ewing, who is part of the trade mission, and business leaders believe there are many opportunities to benefit further in the fast-growing market.
It is SCDI's eighth visit to Brazil, which is a key market for Scotland's whisky- makers.
Exports of Scotland's national drink to the country during the year to the end of last June were worth nearly £80million.
Rio de Janeiro is a major centre for energy and home to Brazilian oil firm Petrobras, while Sao Paulo is Brazil's industrial and financial hub.
Highlighting the potential for businesses in Scotland's energy industry, SCDI's trade mission fact-sheet says: "There are significant opportunities in the oil and gas sector in Brazil.
"A line of credit has recently opened between Petrobras and UK financial institutions.
"This will help Scottish oil and gas companies boost their export activity. Furthermore, Petrobras anticipates that it will invest $224billion (£150billion) in oil and gas exploration and development through 2015, creating significant opportunities for companies operating in this sector."
The UK Government is hosting an energy showcase in Rio on Tuesday.
Mr Moore will team up with Lord Coe in the city that day to promote sporting links between the UK and Brazil, which hosts the football World Cup next year and the Olympic Games in 2016. Brazil is a vitally important market that the UK Government is investing a great deal of time and resource in," the Scottish secretary said yesterday, adding: "There are big opportunities for Scot-land.
"Our expertise in areas such as energy are highly sought after in Brazil's emerging oil industry."