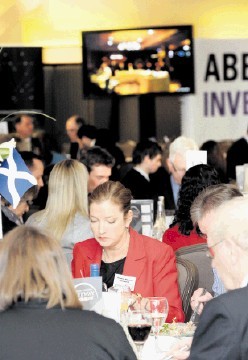 The energy sector skills shortage provided the thread that ran through Aberdeen's first video-linked business lunch with Houston yesterday.
More than 240 business professionals took part in the Gateway 2013 event, which joined – via satellite – 140 diners in the Marcliffe hotel at Pitfodels with more than 60 counterparts breakfasting in the US energy hub.
Among those taking part in the cross-Atlantic exchange were Rod Christie, chief executive and vice-president for GE Oil and Gas's Subsea business and Jim Nixon, chief executive of Houston-based Varel.
Mr Christie, in Aberdeen, said a strengthening global economy could lead to an even greater talent squeeze for the industry over the next five years.
He added: "We've lost the hearts and minds of many of the young people coming through . . . universities and schools who migrate towards wind or renewable power.
"I ask you to engage as much as you can, right through the career spectrum and make sure we are filling the pipeline with people."
Mr Christie said GE Oil and Gas had recruited 20 engineers a week to its global workforce over the past six months and needed a further 2,500 staff over the next two years.
He added: "The oil and gas industry has a tremendous opportunity for growth (but) unless Aberdeen and to some extent Houston are attractive for people to migrate to, it starts me thinking where else I can sustain my business.
"It's a challenge for the city council (in Aberdeen) and for the local government in Houston to recognise those challenges and move quickly."
The theme was picked up by Mr Nixon in Houston, who said: "The real challenge is finding people on the factory floor who are working their way up and supporting them."
Representatives from Robert Gordon's College in Aberdeen and the British School in Houston underlined the importance they placed on preparing youngsters to be future leaders in the energy sector.
Organiser Granite PR said Gateway 2013 had the momentum to become an annual affair and be used as a model to link up other global energy hubs.