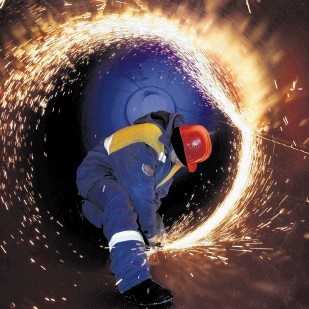 German oil and gas firm Wintershall said yesterday its Catcher project 110 miles east of Aberdeen had put the area back on its radar.
Production from the discovery, which is expected to come on stream in 2015, will further boost the company's record 2012 production of 144million barrels of oil equivalent (boe).
Wintershall's recent expansion in the North Sea helped to lift its sales last year by 39% to £14.4billion, with net profits after tax up 13% at £1billion.
The company expects production to increase to at least 160million boe per year by 2015.
Martin Bachmann, director of exploration and production, said: "Wintershall has always been active in the North Sea in a general sense.
"We've stepped up activity recently with the acquisition of Revus Energy in 2008."
The acquisition of Norway-based Revus for more than £480million gave Wintershall a portfolio of fields in the central North Sea, including interests in Broom and Murchison in the UK section.
A string of North Sea discoveries and an asset swap with Norwegian major Statoil last year has transformed Wintershall into one of the biggest producers in Norwegian waters and an operator of more than 10 licences in the UK, with an interest in 10 more.
Wintershall, which is owned by German chemical giant BASF, produces around 6,000boe per day in the UK, mostly from its Broom and Wingate fields.
It is planning three exploration wells in the UK continental shelf this year – on Catcher, Cladhan North and Timon, with a development well due as part of its Wingate project.
Mr Bachmann said Wintershall's strategy had three strands, including organic growth and "balancing our portfolio through acquisitions like we did last year with Statoil". The third strand would be through technological advances to boost oil recovery, he added.
Currently, the firm runs its central and northern North Sea operations out of Stavanger, with its southern North Sea business managed from The Hague.
Wintershall has four core producing areas in north-west Europe, Russia, North Africa and South America, with the North Sea making up about one-quarter of total production.