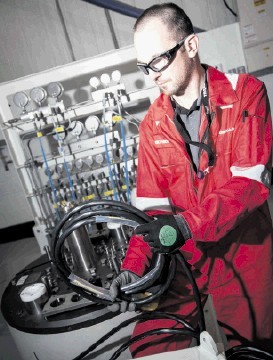 Aker Solutions said yesterday its subsea business in Aberdeen would play a major role in delivering a subsea production system off Africa.
The value of the contract from Total is about £560million and it is understood more than £70million of the work will be done in the north-east.
Around 120 of the Aker Solutions workforce in the Granite City will be involved in the manufacture and supply of all subsea control systems and wellheads.
The Moho Nord project, off the coast of the Republic of the Congo, consists of two developments – Moho Nord and Moho Bilondo 1bis. Aker Solutions and Total will run both developments as one integrated scheme.
Managing director of Aker Solutions' subsea business in Aberdeen Matt Corbin said: "We are delighted to partner with Total on such a prestigious project.
"Our business in Aber-deen has been working with our clients at Total for some time to ensure that we are fully resourced and ready to commence project execution immediately. It is fantastic to be able to use our Aberdeen base to manufacture and export high-quality products for our international client base."
Aker Solutions has around 3,200 employees in the UK. It is one of Scotland's largest employers with a workforce of more than 2,700 people in Aberdeen and expects to increase its workforce in the city by about 500 by 2015.
Management, engineering and procurement for Moho Nord will be performed primarily at Aker Solutions' headquarters in Fornebu, Norway. The subsea trees and the workover systems will be manufactured at the Tranby manufacturing centre, outside Oslo, while production of the manifolds will be carried out at Aker Solutions' facility in Egersund on the west coast of Norway.
Alan Brunnen, head of Aker Solutions' subsea business, said: "This is a major contract award for Aker Solutions.
"We are investing and growing internationally and Aker Solutions is committed to developing the oil and gas industry in the Republic of the Congo through knowledge sharing and local content."