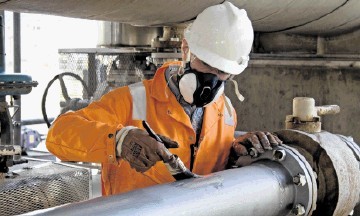 Oil service firm Bilfinger Salamis UK is planning to add more than 200 people to its workforce.
The Aberdeen-based business said yesterday it had been appointed by Shell UK to provide services for an upgrade project running until next year.
The value of the contract has not been disclosed, but is understood to be worth a multimillion-pound sum.
The deal involves asset integrity work to be carried out on the Gannet and Shearwater installations.
Salamis will provide coating application, removal and reinstatement of insulation and passive fire protection, as well as access solutions for the project.
Chief operating officer Mike McKay said: "This is a significant contract award and a great start to the year.
"It follows a record year in 2012 for the business with turnover of £155million from our Aberdeen North Sea headquarters, and a further £160million delivered in the UK across the Bilfinger Industrial Services Group."
The Shell work is expected to create 10 onshore positions, with a further 200 jobs offshore. Salamis currently has 150 people at its office in Aberdeen, with 1,600 offshore staff working from the Granite City.