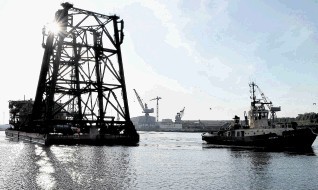 Strengths and weaknesses in the oil and gas decommissioning sector will be highlighted to delegates attending an event for the sector today.
Decom Offshore 2013 is being held by offshore oil and gas decommissioning forum Decom North Sea (DNS) at Aberdeen Exhibition and Conference Centre.
The event will allow operators and major contractors to provide a collaborative view of their main challenges to the industry, and to show innovative technologies, techniques and solutions available to help overcome key issues faced in decommissioning projects.
DNS chief executive Brian Nixon said there had been much speculation recently on the capability and capacity of the oil and gas industry to support forthcoming decommissioning programmes.
He added: "DNS was pleased to partner with the oil and gas team at Scottish Enterprise to commission two complementary studies designed to provide some clarity on this issue.
"The first study has mapped out the very diverse range of technologies, skills, services and facilities needed in each phase of decommissioning, and has assessed the industry's capabilities and experience in each area.
"The report also points to an imbalance across the various phases of decommissioning activity – suggesting greater industry capability in areas like preparation, engineering down, cleaning and onshore disposal, but less capability in well plugging and abandonment."
The second study looks at the key aspects of decom activity in the coming years and makes an assessment of available industry capacity. With recently announced increased investment in new capital developments, sustained levels of operational expenditure, a ramping up in offshore wind developments, and growing activity in decommissioning, the report not surprisingly highlights areas where capacity is likely to be particularly tight.
Examples include engineering staff, drilling rigs for plugging and abandoning wells and vessels.
Mr Nixon said: "These complementary reports will provide a valuable insight into the shape and strength of the industry in advance of a sustained programme of decommissioning across the North Sea. They will also highlight areas where innovation, capacity building or investment may be required, thus allowing Scottish Enterprise and Decom North Sea to target their support to greatest effect."
DNS has grown since its inception in 2010 to have more than 200 members drawn from operators, major contractors, service specialists and technology developers.