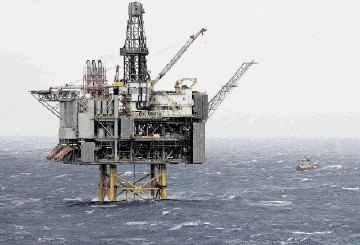 Britain's oil and gas industry could stretch long into the second half of this century after oil giant BP announced further exploration west of Shetland.
The operator has launched a £330million appraisal programme at Greater Clair which could unlock hundreds of millions of barrels of oil at the huge field.
With fellow majors Shell, Chevron and ConocoPhillips, BP is already planning a second phase at Clair, called Clair Ridge, which is expected to produce oil until 2050.
If BP's latest appraisal programme is a success, the firm said it could open the door to a third phase which would tap into even more of the field's estimated 8billion barrels of oil.
The firm has already started drilling the first of five initial appraisal wells and could go on to sink a further seven.
Trevor Garlick, regional president for BP North Sea, said: "This is a major milestone and a further big commitment to the west of Shetland by BP and its co-venturers.
"If successful, the appraisal programme could pave the way for a third phase of development at Clair; this is now a real possibility."
The Clair field 45 miles off Shetland was discovered in 1977 but production did not start at phase one until 2005. It has produced 90million barrels already and output is expected to continue until 2028.
BP has also started signing contracts for the development of the £4.5billion Clair Ridge project, which is north of phase one and expected to start producing 640million barrels of oil in 2016. Appraisal wells will be drilled across the 85 square-mile field over the next two years.
Energy Secretary Ed Davey welcomed the "excellent news", saying: "It shows the industry's commitment to maximise the potential in this area, which could hold up to 17% of our oil and gas reserves.
"Greater Clair proves there is still a long future for oil and gas production in the North Sea and will give confidence to new recruits that the industry offers a career for life."
Oonagh Werngren, operations director at trade body Oil and Gas UK, said Clair proved there were still giant fields in the UK to be explored.
"Further recovery of oil and gas from fields like Clair provides a boost to the economy, not only contributing much-needed tax revenues and strengthening our energy security but also presenting opportunities for our world-leading supply chain to provide the required technology and expertise," she added.
Recommended for you

'We would love to see Rosebank electrify the region' says Equinor boss