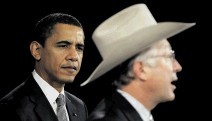 Shell has been barred by the Obama Administration from drilling in Arctic waters until the company overhauls its operations programme and management plan.
"Shell screwed up in 2012, and we're not going to let them screw up after their pause is removed," Interior Secretary Ken Salazar said, announcing the ban on March 15.
"Before Shell is allowed to move forward, they're going to have to show to the Department of Interior that they have met the standards that have been required."
Salazar's statement came after a report which found that Shell's contractors were not prepared to meet the demands of extreme conditions in the Arctic, which caused a series of accidents, culminating in the New Year's Eve grounding of its drilling rig Kulluk.