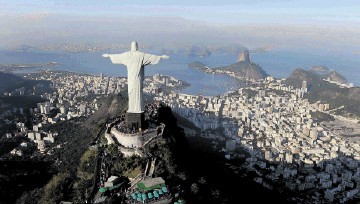 Brazil is where the action is. I feel sure that these words have been used in other contexts but right now they are particularly true of oil and gas, for companies that like a challenge and an opportunity.
I visited Rio de Janeiro last month with a shoal of British companies looking for a piece of that action. With Brazil announcing its 11th licensing round, offering international companies the opportunity to participate in massive offshore "pre-salt" fields, the timing was good.
Of course, the oil majors are well represented. BG has a particularly strong position in Brazil because of its early participation in the market.
Remarkable to think that as recently as 2004, the majors were still choosing not to seek licences in Brazil – a judgment that has not entirely been forgotten and which helped semi-state company Petrobras to its current pre-eminence.
There are lots of parallels with the North Sea and the Brazilians respect UK expertise and want our participation at all levels. Or at least that was the message which came across in meetings with senior figures from both government and Petrobras. And I really do think they mean it.
We were there with Scottish secretary Michael Moore, who has made a sustained effort to support companies – mainly from Scotland but also elsewhere in the UK – which want to expand their presence in the Brazilian market.
Moore was able to list a string of current examples of how this translates into practice.
The Balmoral Group has plans to set up a manufacturing plant at Espirito Santo.
Xodus, the Aberdeen- based consultancy firm, has established a joint venture with Brazilian engineers, Promon, to provide subsea services.
The Orkney-based company, Opus, is exporting its "mare's tail" device to Brazil to remove residual oil from water discharged during production.
And Expro's connectors and measurements team has been contracted to provide Aker Solutions in Brazil with new medium-power subsea electrical connections systems.
Larsen Oil and Gas, Bowtech and RDS KCA Deutag were other names mentioned by Moore as examples of companies that have succeeded in forming strong partnerships in Brazil.
The new licensing round covering vast offshore areas, as well as emerging onshore potential, means that these are likely to be long-term relationships.
Attentive readers of Energy may know much of this already, but it still adds up to an impressive case for more of our North Sea companies to look at Brazil as an attractive market for products and services.
But urgency is the keynote since the other part of the Brazilian message was that, while they like us and want to work with British companies, there are lots of others in the field.
I was particularly impressed with the academic co-operation which is burgeoning at present, not least in the oil and gas sector. This is driven to a large extent by a remarkable Brazilian government programme called Science Without Borders which Albert Rodger, an Aberdeen University VP, described as the best example of scientific collaboration he had ever encountered.
The Brazilians are paying for 100,000 of their young scientists and engineers to go abroad for part of their under-graduate and post-graduate courses.
The United Kingdom government has committed to taking 10,000 of them – and they have already started to arrive at Aberdeen, Robert Gordon, Strathclyde and other universities.
Better still, the industry has latched on to the potential of this scheme by sponsoring some of the students – British Gas, for instance, has agreed 20 sponsorships at Aberdeen.
While in Rio, Rodger was having talks with Petrobras about their doing the same. This means even stronger relationships for our institutions which must be a good investment for the future.
The Brazilian oil and gas sector also offers just about the best example I know of government working successfully in support of the oil and gas industry.
I regret the fact that UKTI is now a much more thinly-spread organisation than it was in my days as a trade minister and latterly energy minister.
However, the Brazil focus shows what can still be done when the resources are available.
There is a 60-strong presence of UKTI in Brazil, which is due recognition of its significance as a market and much of that effort is devoted to oil and gas.
The unanimous view of companies I spoke to was that this works extremely well, creating linkages between companies and levels of access that could not otherwise be aspired to.
There were also some salutary messages. For example, the point was repeatedly made that language skills, and knowledge of the Brazilian culture, are major aids to working successfully there. It is a lesson that can be applied in many other places and it is long past time that we did more, through our educational system, to pay heed to it.
A lot of background work goes into a visit like this one. For example, UKTI had organised a roadshow by Petrobras last December taking in Aberdeen, Newcastle, Leicester and London. Its envoys met 350 companies, many of which have since followed up the opportunities identified. I was also pleased to see that Scottish Development International has opened a small office in the Rio consulates to supplement the effort.
It was great to see so many familiar faces, out and about, looking for opportunities which would create jobs back home. There are many oil and gas provinces in the world to choose from, but surely none is more worthy of our attention than Brazil.
Recommended for you

Cornerstone ready for 'massive' UK North Sea opportunity after buying up assets