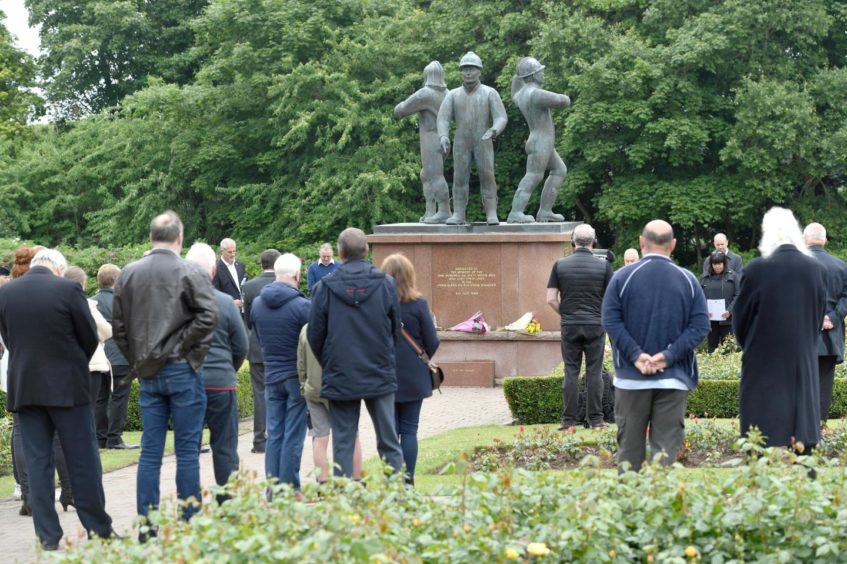 A memorial service was held in Aberdeen today to mark 33 years since the Piper Alpha disaster, which claimed the lives of more than 100 men.
About 70 people gathered in the memorial garden in Hazelhead Park on Tuesday for the socially distanced, Covid compliant commemoration.
Among them were survivors of the tragedy, as well as family members of the 167 men that died when the North Sea platform exploded in 1988.
Piper Alpha remains the world's worst-ever offshore oil and gas disaster.
The service, which was also recorded to allow people to participate virtually, was led by Reverend Gordon Craig from the Oil and Gas Chaplain.
He paid tribute to those that died in the disaster before the names of those who perished were read out.
A minutes silence was then held, following which wreathes were laid at the foot of the memorial's iconic sculpture, which features three North Sea oil and gas workers.
Steve Rae, a survivor of Piper Alpha and chairman of the Pound for Piper trust, said: "We're so pleased that there's been such a good turnout today of those that still think about the disaster every day.
"It's an opportunity for us all to reflect on where we are as an industry as we go through a transition. We have to remember those that lost their lives to get us to where we are today."
Mr Rae, who is also executive director of industry body Step Change in Safety, added: "The north-east was particularly badly affected by Piper Alpha.
"It's great that the memorial garden exists and that Aberdeen City Council work with us to keep it at an excellent standard so that people in the region have a space for thought and reflection."
Strict restrictions around gatherings last year meant that the 32nd Piper Alpha memorial service had to be held virtually.
And while that was a "great alternative", Mr Rae said it was a "real relief" to be able to hold an in-person event again.
Mr Craig, who has been the sector's dedicated chaplain since 2012, added: "When you're in a group together, albeit socially distanced, you get a real sense of support and that you're not alone. That can be an important strength.
"Thirty three years might seem like an odd number to commemorate in some ways, but for those involved it's not a number – it's a continuing loss.
"Every year, every month, every day they remember who they've lost, which is why it's so important to be able to get together."
Piper Alpha
The Piper Alpha production platform, which was situated about 120 miles north-east of Aberdeen, exploded on July 6, 1988.
A total of 167 men died in the incident, including two crewmen on a rescue vessel – just 61 workers survived.
In the wake of the disaster, which incurred a total insured loss of about £1.7 billion, widespread health and safety regulations were rolled out, including the 1992 Safety Case Regulations (SCR).
Dan Byrne, who became a Pound for Piper trustee last year, launched his career just a month after the tragedy.
He said: "It's incumbent on all of us in the industry to ensure that we have a chronic sense of unease that major accident hazards are still there and that a similar incident could happen.
"We need to ensure that the detailed, thorough barriers that are in place are functioning and that we're looking at those all the time. It's still as relevant today as it was 33 years ago."
Recommended for you

Oil and Gas Chaplain Gordon Craig to step down after 11 years of service