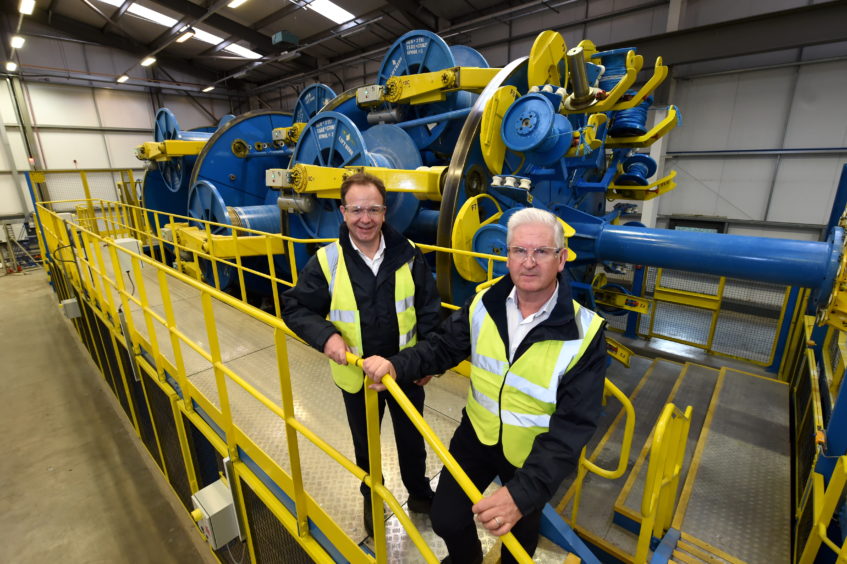 The boss at Hydrasun says a change of ownership has put the Aberdeen-headquartered energy service firm on the "front foot".
Chief executive Bob Drummond said he "felt good" about linking up with US private-equity firm SCF Partners, which shares Hydrasun's enthusiasm for energy transition opportunities.
Bosses SCF said they intended to "loosen the purse strings" and promote investment at their newest portfolio company.
Houston-headquartered SCF bought its majority stake in Hydrasun from funds managed by Investcorp Bank BSC, which had owned the business since 2013.
Details of the acquisition fee and the exact size of SCF's majority shareholding were not disclosed.
It is understood Mr Drummond and the senior management team, who will retain their positions, have kept hold of a "material" interest in Hydrasun, which turned over £81 million in 2019-20.
Mr Drummond, CEO since 2002, said a combination of the investment from SCF, the new owner's focus on the energy transition, and signs of recovery in core markets meant Hydrasun had cause for optimism.
He said: "This really puts us in a front foot expansive position. With the previous investor, we were largely in a defensive risk averse position, for a variety of reasons."
Founded in 1976, Hydrasun is a provider of fluid transfer, power and control solutions to the oil and gas, industrial and renewables industries.
Hydrogen has also become a "key market" for the company in recent years.
It has worked on several projects in the UK and Europe, covering the installation of integrated hydrogen fuel cell technologies.
Mr Drummond said: "We are well-positioned for a step change in growth in the hydrogen space, but we needed funding for that and SCF will be a committed partner."
He also said Hydrasun had added six employees to its books in Aberdeen since year-end, taking its Granite City headcount to 237.
The group now has 411 employees and is advertising 18 vacancies, five of which are in the north-east.
It also has bases in Aviemore, Glasgow and Stockton-on-Tees, as well as operations in mainland Europe, North America, the Middle East and Africa.
Colin Welsh, Aberdeen-based international partner at SCF, said he viewed Hydrasun as an "excellent platform for growth" and pledged to invest in the business.
Asked how the acquisition might impact Hydrasun's workforce, Mr Welsh said: "We are investing in this business in the expectation that we will put more capital to work and help it grow further.
"You can't shrink your way to success so we're going to invest our way to success and we would expect the headcount to grow."
Mr Welsh said SCF saw plenty of scope for expansion across all of Hydrasun's business areas, including oil and gas, where investment has been lacking, particularly on the maintenance side.
He also said Hydrasun's capability in the hydrogen market meant it was well-placed to thrive in the transition.
Mr Welsh added: "Bob has ambitious plans and we are more than happy to support him. We think he's a terrific CEO.
"Hydrasun has been constrained from a capital perspective over last few years, so we would like to loosen the purse strings and allow some investment in the business."
Founded in 1989, SCF's portfolio also includes Score Group, of Peterhead, and Centurion Group, of Aberdeen.
Recommended for you

UK risks "throwing away" Scotland's green opportunities, warns Yousaf