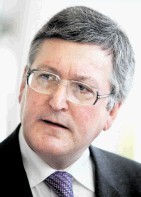 Energy Minister Fergus Ewing has restated the Scottish Government's approach to the oil and gas industry if Scotland became independent.
Speaking at a North Sea oil and gas summit in Aberdeen yesterday, Mr Ewing said an independent Scotland would not launch any 2011-style tax grabs on the oil and gas industry.
Chancellor George Osborne had introduced a surprise £10billion tax rise on the sector, which led to a drop in investment.
Mr Ewing said: "We have to recognise that the need for stability is an overriding imperative for investor confidence."
He promised that oil companies would be included in a formal consultation process on any change to the tax system, adding that Scotland could not afford to imperil investment through fiscal instability.
He said the current UK system of tax relief could be extended to ensure the recovery of North Sea oil and gas is maximised.
With reference to regulatory stability in an independent Scotland, the minister confirmed support for the continuation of the current UK system of regulations, with close ties maintained with London.
In addition, support to help small and medium-size firms become the "Wood Groups of the future" would continue to be a cornerstone of the Scottish Government's oil and gas strategy.