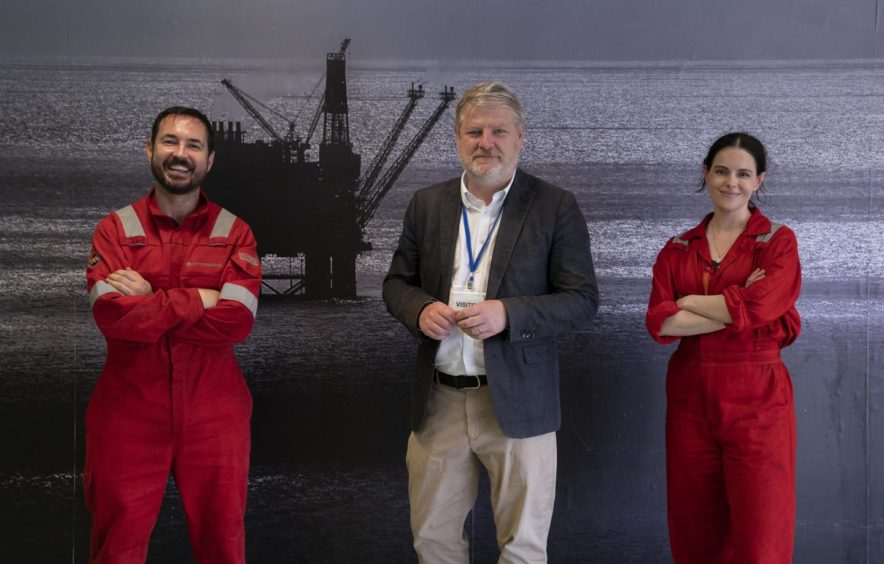 Scotland's Culture Secretary has been given a behind the scenes tour of the set for upcoming Amazon Prime show "The Rig".
Angus Robertson visited Bath Road studios in Leith, Edinburgh, today where the six-part drama is currently being filmed.
He was greeted by members of the production's all-star cast, as well as some of the 150-crew members working on the series.
Amazon Prime revealed details last year for a supernatural thriller set on an oil rig in the North Sea.
It is the streaming giant's first production to be filmed exclusively in Scotland.
Several high profile names have already been confirmed for The Rig, including Game of Thrones star and Aberdeen University alumni Iain Glen, who will play Magnus MacMillan, offshore installation manager (OIM) and leader of the crew.
Communication manage Fulmar Hamilton will be portrayed by Scottish actor Martin Compston, who is best known for his role in hit BBC drama Line of Duty.
Meanwhile Schitt's Creek star, Emily Hampshire will take on the role of a scientist and oil company rep.
The Rig has been written by Scotland's David Macpherson and directed by John Strickland, with filming taking place on an oil rig, as well as the studio in Leith.
Mr Robertson said: "What a thrill to visit the set of a major television drama being shot here in the heart of Scotland's capital, and it was a pleasure to meet the talented cast and crew.
"Working closely with Screen Scotland, I firmly believe that we are providing a foundation for a sustainable base of Scottish companies and talent to create more projects and productions that draw on Scotland's culture and imagination.
"We are focused on building the skills, talent, support system and infrastructure to capitalise on unprecedented interest in production in Scotland and further develop a sustainable creative economy.
"It was also a pleasure to meet the trainees on set – highly skilled, talented people, drawn from a diverse range of backgrounds, are key to the ongoing success of film and TV production."
Amazon previously said the show is about a group of offshore workers who are poised to fly home "when an eerie fog descends and a mysterious force begins to take hold".
It will follow the crew of the fictional Kishorn Bravo, stationed off the Scottish coast, who are cut off from the outside world.
As they try to discover what's behind the all-enveloping fog, "bonds are broken, allegiances formed and generational fault lines exposed" as they deal with forces "beyond their imagination", Amazon said in a statement in November.
The Rig is the first production to be filmed at Bath Road studios and is considered a "key element" in the recovery of Scotland's creative industry, providing long-term jobs for local freelance crew.
It is also offering traineeships across the production, including in special and visual effects.
Production crew have been sources from sectors that have adversely affected by Covid, including theatre and live events.
Dan Grabiner, head of UK originals at Amazon Studios, said: "We were delighted to host Cabinet Secretary for the Constitution, External Affairs and Culture Angus Robertson on set for our UK Amazon Original series The Rig, currently filming at Edinburgh's FirstStage Studios.
"We took the opportunity to introduce some of the local cast and crew, including our Screen NETS trainees which we've partnered with the brilliant Screen Scotland to facilitate. We're excited to build on our commitment to Scotland's creative industries as more Amazon Original productions choose Scotland as their home."
Recommended for you

Martin Compston: 'Filming The Rig brought back memories of magical Aberdeen'