Banks have a key role in helping to unlock billions of pounds of extra oil and gas industry investment, a leading lawyer said yesterday.
Judith Aldersey-Williams, a partner at law firm CMS Cameron McKenna, added the recent UK Government pledge to guarantee tax relief on future decommissioning costs should make it easier for firms to provide security for decommission liabilities.
The need for letters of credit guaranteeing payment for the future dismantling of infrastructure was placing a heavy burden on the sector, blocking new investment and asset sales, she said.
Speaking just after her speech at the North Sea Oil and Gas Summit 2013, near Aberdeen, Ms Aldersey-Williams added: "We very much hope that when companies go for letters of credit, the banks will be happier that the tax proportion (the amount companies will be able to claim back on their decommissioning costs) is effectively secured."
Assurances over the future rate of decommissioning tax relief are also likely to affect lending decisions, she said.
Industry body Oil and Gas UK has said that enshrining the clawbacks in law should delay decommissioning of infrastructure, unlock up to £40billion of extra investment and result in the recovery of an additional 1.7billion barrels of oil and gas.
The changes – announced in the recent Budget – are the result of two years of talks between the industry and government, and are expected to free up capital that firms have been holding back.
Ms Aldersey-Williams explained their likely impact in her speech at yesterday's event, held alongside the Offshore Falklands Summit at Ardoe House Hotel.
She told delegates about the pros and cons of current decommissioning security agreements and why they were needed.
While they helped to make sure infrastructure owners paid for future decommissioning costs, they also tied up funds which could be better used for investment, she said.
Until now, uncertainty over tax relief has doubled and in some cases quadrupled the size of funding guarantees, she added.
Recommended for you
X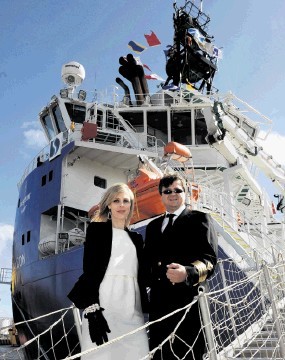 North Sea role for Falcon