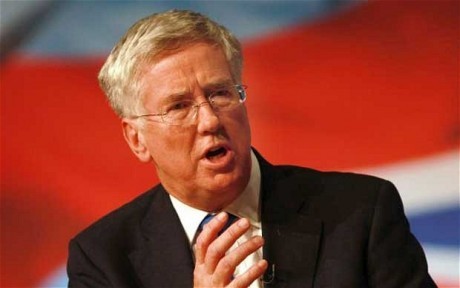 The UK's new energy minister has claimed that oil and gas leaders around the world are worried about Scottish independence – and that a "yes" vote would damage North Sea investment.
In his first intervention in the battle over Scotland's future, Michael Fallon warned that going it alone after the referendum would have "particular implications" for the offshore sector.
The minister responsible for North Sea oil and gas – who was born and raised in Scotland – said he had been asked repeatedly about the independence issue by energy investors on trade trips across the globe.
The Conservative MP claims Scotland's status "matters" to key people in the industry and independence would cause "uncertainty in investment".
However, Scottish Finance Secretary John Swinney hit back at the claims last night, saying nobody "should trust a word any Westminster Tory minister says about investment in the North Sea" following George Osborne's 2011 tax raid on the industry.
Mr Fallon arrives in Aberdeen today for talks with oil and gas industry leaders just four weeks after being handed the energy brief by Prime Minster David Cameron.
In his first newspaper interview since taking the post, he also pledged to the Press and Journal that he would deliver "concrete action" for the offshore sector and its crucial supply chain.
Mr Fallon revealed that he used to spar with First Minister Alex Salmond in the student politics of St Andrews University in the 1970s.
His comments on independence last night could lead to a renewal of hostilities.
"I'm worried about the referendum next year," he said. "Obviously I want to see Scotland stay part of the United Kingdom.
"I think it would have particular implications for oil and gas. It would create uncertainty in investment, obviously.
"I'm asked about it when I'm overseas on trade visits, just how realistic the prospect of separation is.
"I think it matters to overseas investors that they see the United Kingdom as a whole. So that concerns me.
"We're going to have the vote. I hope it goes the right way so we can put it behind us, get on and work together, but it's obviously a concern."
Mr Fallon, who was born in Perth and raised in Dundee, said he regretted that he would not have a chance to vote.
"I just wish I still had a vote, actually," he said.
"Alex hasn't given me a vote, after all those arguments we had together at St Andrews."
Mr Fallon also predicted that Scots would be too "canny" to vote for independence – the same word controversially used by his predecessor, John Hayes, in the independence debate six months ago.
"I think that Scots are canny enough, actually, to see the balance of advantage," the new minister said.
Meanwhile, Mr Fallon delivered a huge vote of confidence in the North Sea sector.
"It's a huge part of the economy," he said. "I think occasionally there's the mistaken assumption that the whole thing is running out, and it isn't. There's a lot more to be recovered there and it's a big part of our future energy mix. I will be reinforcing that message on Monday morning." Mr Fallon's appointment to the energy post, which he will hold alongside his role as a business and enterprise minister, was announced on the same day last month as Cabinet members Ed Davey, Vince Cable and Michael Moore announced the government's new oil and gas strategy on a visit to Aberdeen.
The minister said the hard work starts now.