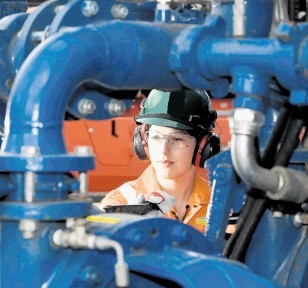 Shares in Aker Solutions crashed yesterday after the Norwegian oilfield engineering group said it had suffered a "truly disappointing" start to the year.
The firm's stock fell by as much as 24% in early trading after it said rising costs at a key project and losses across its divisions had hit turnover and profits.
Aker's shares closed down 21%, wiping nearly £700million from the company's value as analysts described its statement as a "serious profit warning".
The company could not be contacted for comment on the impact yesterday's statement might have on its plans for the UK, where it wants to add thousands of people to its workforce as a result of operations in the North Sea.
It said it anticipated earnings before interest, tax, depreciation and amortisation from the first three months of 2013 would come in at £96million, down from £106.6million last year and nearly £30million short of expectations.
Although turnover is forecast to amount to £1.2billion, up from £1.04billion last year, analysts had pencilled in revenue of £1.28billion for the period.
The firm said it had endured cost overruns at its Ekofisk Zulu platform project in the North Sea, a £7million loss in its umbilicals division and £6million of losses in its oilfield service and marine asset business.
Aker stressed the figures were preliminary, however, and had not been discussed or approved by its board of directors.
Executive chairman Oyvind Eriksen said: "The slow start to 2013 is truly disappointing".
Lost or postponed contract awards were "part of the game" but some of the problems were unacceptable, he said, adding: "We have worked hard to avoid such mistakes but there is still a way to go.
"My hope is that the customers appreciate our efforts to deliver according to our commitments to safeguard their commercial interests, and that we ultimately will be able to find amicable solutions to some of the additional costs."
Haakon Amundsen, analyst at Norwegian investment bank ABG Sundal Collier, said: "This is a serious profit warning, both in terms of size and the fact that it is spread out (over several divisions)."
Aker employs about 2,800 people in and around Aberdeen but wants its north-east workforce to grow to 3,200 by 2015, which would make it one of the area's biggest employers.