Plains Exploration & Production is hiring two of Noble Drilling's ultra-deepwater drillships on order in South Korea in contracts worth about $1.4billion.
This would appear to build the company's already considerable contracts back-log to more than $15billion
The Noble Sam Croft and the Noble Tom Madden are being built on fixed-price contracts at Hyundai Heavy Industries and are expected to start out working mostly in the deepwater sector of the US Gulf of Mexico.
Noble Sam Croft is scheduled to be delivered in Q2 next year, followed closely by the Noble Tom Madden, which is expected to be delivered in the second half.
The Plains contracts . . . each is to run for three years . . . means that all four of the super-drillships ordered from Hyundai now have work on their books.
"With the addition of these units to our US Gulf of Mexico fleet, Noble will have one of the most modern and capable fleets in the region, a fact that demonstrates the fundamental change going on across the company," said David Williams, who is chairman, president and CEO all rolled into one at Noble.
"At the same time, these contracts provide us with significant additional backlog, while expanding and diversifying our customer base as we grow our relationship with an important new customer."
Just the day prior to the contracts announcement, Williams reported a total backlog at March 31 of some $14billion compared to $14.3billion at December 31, 2012. At the end of the Q1 this year, approximately 74% of the company's available rig operating days were committed for the remainder of 2013, including 79% of floating rig days and 76% of jack-up rig days.
"For 2014, an estimated 55% of the available rig operating days were committed, including 71% and 50% of the floating and jack-up rig days, respectively," he said.
The four vessels placed with Hyundai are all based on the proven Hyundai Gusto P10000 hull design, which is designed to be capable of operations in water depths to 3,657m (12,000ft) and offering a variable deck load of 20,000 tonnes.
Noble Sam Croft and Noble Tom Madden will be fully equipped to initially operate in water depths to 3,048m (10,000ft). Each will carry two complete six-ram BOP (blow-out preventer) systems for their drilling packages.
The sisters will also be equipped with a 165-ton heave compensated construction cranes to facilitate deployment of subsea production equipment.
The four sisters are part of a much wider build programme that currently also includes six high-spec jack-ups.
Recommended for you
X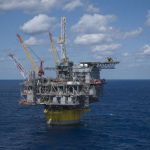 Energy firms evacuate much of western Gulf, prep for Harvey