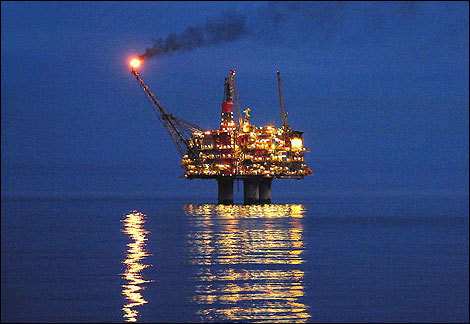 An "alarming" new report setting out the impact of climate change on the planet should spell the end for oil and gas, according to a senior international figure.
Antonio Guterres, United Nations secretary-general, said the Intergovernmental Panel on Climate Change (IPCC) paper signalled a "code red for humanity" and "must sound a death knell" for fossil fuels.
According to the IPCC report, which received approval from representatives from 195 governments and was published by the UN on Monday, global temperature rises are poised to reach or exceed 1.5C over the next two decades.
And the temperature is expected to continue increasing until about 2050, meaning counties will miss the targets set out in the Paris Agreement.
#ClimateChange is widespread, rapid, & intensifying – #IPCC

Scientists are observing changes in the Earth's climate in every region & across the whole climate system, says the IPCC's latest #ClimateReport, released today.

➡️ https://t.co/4t8uyqoLXN
➡️ https://t.co/uU8bb4inBB pic.twitter.com/e3oAgQJQWe

— IPCC (@IPCC_CH) August 9, 2021
Driving the change is the activity of humans, particularly the burning of fossil fuels, the report said.
One of the report's lead authors, Tamsin Edwards from King's College London, said: "Unless there are immediate, rapid and large-scale reductions in greenhouse gas emissions, the 1.5C target will be beyond reach."
Impact of humans 'unequivocal'
The report – which maps out five potential scenarios with differing pollution rates – includes research from more than 14,000 scientific papers.
It concluded that it is "unequivocal" that human activity is causing global temperatures to rise, leading to extensive changes to the environment, many of which will be "irreversible" for decades to come.
Such changes are behind the extreme weather events that have struck much of the world in recent times, the report said.
In a statement, Mr Guterres said: "This report must sound a death knell for coal and fossil fuels, before they destroy our planet.
"Countries should also end all new fossil fuel exploration and production, and shift fossil fuel subsidies into renewable energy."
'Increased, urgent action on climate change is vital'
It's not all doom and gloom though, with the IPCC report claiming that global temperatures could stay under 1.5C in the long run if carbon emissions are reduced to net zero by 2050.
That needs to be combined with efforts to remove CO2 from the atmosphere, along with significant cuts to greenhouse gases like methane, a by-product of oil and gas drilling.
Reacting to the report, industry leaders stressed the need for a rapid move towards a new energy system.
Deirdre Michie, chief executive of trade body Oil and Gas UK, said: "The UK offshore oil and gas sector is changing, as oil and gas companies are increasingly pioneering greener energy.
"It's vital we harness the sector's 50 years of energy expertise to hit the government's net zero targets.
"But it's important to remember that the Climate Change Committee has said we will still need oil and gas as part of a diverse energy mix to 2050 and beyond.
"The aim is to use new technologies to make these traditional fuels acceptable in our low-carbon future."
An Oil and Gas Authority (OGA) spokesperson said: "There has been no let up on our net zero programme.
"Our revised OGA Strategy has been brought into force with new net zero requirements for industry and we are continuing to hold industry to account on its existing emission reduction targets."
Claire Mack, chief executive of trade body Scottish Renewables, said: "The findings of today's IPCC report are stark: increased, urgent action on climate change is vital.
"Renewable technologies like wind, solar, hydropower, tidal and more are already combating climate change – providing the equivalent of 97.4% of Scotland's electricity consumption and delivering economic benefits across the country, as well as displacing more than 13 million tonnes of carbon emissions every year.
"The arrival of COP26 in Glasgow in November gives us the perfect opportunity to tell the world about those successes and use the skills, knowledge and technologies which have been developed here to help the rest of the world decarbonise its economies and meet commitments made under the Paris Agreement."
Emma Cox, global sustainability and climate change leader at accountancy firm PwC, underlined that the goal of limiting temperature increases is "still achievable" with quick and decisive action.
A "doubling down" of effort will be needed this decade to "rapidly accelerate emissions reductions", she said.
Ms Cox added: "For companies with a global footprint, the report provides the most detailed analysis of where and how your operations, supply chains and markets are vulnerable to the impacts of climate change.
"Climate science should remain the hard basis for all decision making and target setting. In parallel, it must be used to inform and instigate a strong policy response to close the remaining ambition gap to keep the Paris Agreement objectives alive."
'Civil disobedience' beckons
Unsurprisingly, the paper has added fuel to the strong criticism that oil and gas producers have faced from climate change groups.
Off the back of the study, Extinction Rebellion has committed to holding a fortnight of "civil disobedience" in London starting later this month.
Clare Farrell, co-founder of the group, said: "We are in the midst of a collective act of global, social evil which is unprecedented in all of history. We spend more time measuring it than trying to stop it, this is in and of itself a crime.
"We don't need any more data to tell us how bad it is, we need to understand how change works. The time to work together is now, mass movements can create rapid change and we are in open rebellion until we see real action."
Friends of the Earth Scotland said the report highlighted the need for the UK Government to curtail the planned Cambo field.
The development west of Shetland has come under immense pressure from politicians and campaigners, with First Minister Nicola Sturgeon pressed on the matter over the weekend.
Cambo, which would yield millions of barrels of oil, is being developed by Siccar Point Energy and Shell.
Friends of the Earth Scotland's climate & energy campaigner, Caroline Rance said: "This report should make alarming reading for everyone on earth. The conclusions of the world's best scientists makes it clear that if we are to avert further climate breakdown we must urgently phase out fossil fuels.
"That means rejecting new oil and gas developments like the Cambo field and for Governments to sit down with workers and communities to plan a fair transition away from oil and gas."
"The Scottish Government should be acting on the advice of these climate scientists not listening to oil companies and big polluters who are putting their profits above the survival of millions of people."
Recommended for you

Al Jaber denies using COP28 Presidency to make oil and gas deals