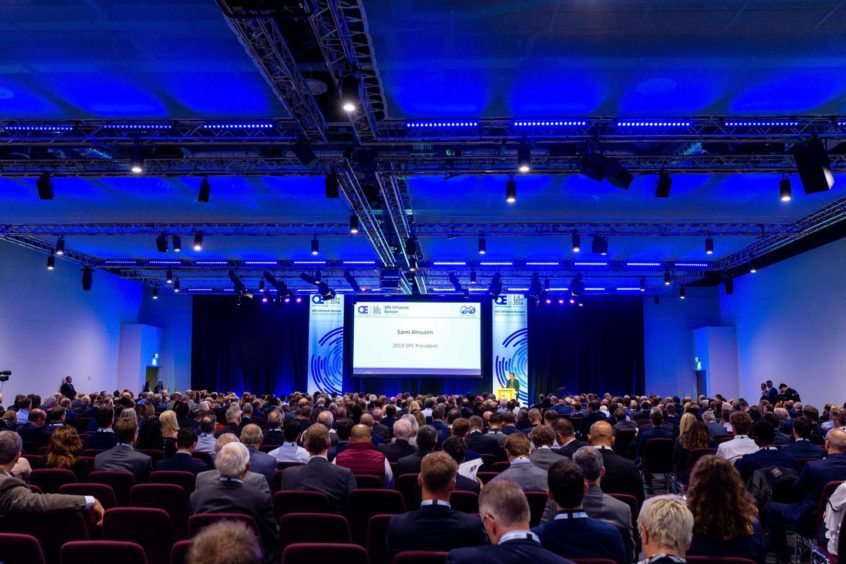 From deeper decarbonisation to overhauling business models, energy industry leaders, decision makers and innovators will tackle a gamut of topical and critical issues at SPE Offshore Europe's virtual conference from 7-10 September 2021.
It will be the first time in the history of the biennial event that debate will take place at attendee's desktops instead of in conference rooms and on the show floor in Aberdeen. Planning is also underway for the in-person exhibition, with new high-level energy transition conference content post-COP26, to take place from 1-4 February 2022 at P&J Live, Aberdeen. This will include new keynote conference content that will be developed after the UN Climate Change Conference (COP26) taking place in Glasgow 1-12 November 2021.
This year's theme – 'Oil & Gas: Working Together for a Net Zero Future' – is therefore even more resonant as it reinforces the importance of collaboration and consolidating climate change efforts through innovation, regulation, and cooperation.
The virtual conference will include an opening ceremony, plenary panel, and ten keynote and 14 technical sessions, incorporating more than 50 technical papers. Seven of the ten keynote sessions and half of the technical programme will be related to energy transition subjects. Keynote sessions with a net zero focus include: Delivering carbon capture, utilisation and storage; CCUS and hydrogen at scale; energy islands; roadmaps to net zero; scaling up digital to enable a low-carbon industry; facilities of the future and breaking the silo paralysis.
A new era for energy
Since the last conference and exhibition in 2019, the world's governments, societies and economies have had to radically transform to overcome the tragic and turbulent impact of the coronavirus. But despite continued uncertainty and caution, the pandemic has also shown what the world could look like with lower carbon emissions. Over the past 18-months, this has triggered increased momentum across the oil and gas sector towards ensuring an impactful energy transition.
DNV and IOGP will lead a keynote session asking if the industry's actions now will succeed in the journey to net zero. Global thought leaders from government, industry organisations, as well as operators and supply chain companies, will discuss the key elements of their road maps, which will include energy optimisation, electrification, flaring and venting reductions, carbon capture and storage (CCS) and hydrogen, asset re-purposing and re-use. Hari Vamadevan is a committee member with SPE Offshore Europe and Regional Director, Energy Systems UK and Ireland with DNV. He believes that tackling the issue head on at the virtual conference will give: "the industry, government, regulatory bodies and NGOs a clearer appreciation of the urgency and scale of action needed, the cultural shift required, and the impetus for a new era of collaboration and co-ordination."
He goes on to say: "This year, with COP26 around the corner, it is an unmissable opportunity to show how we are embracing the transformation and how we will help deliver low carbon solutions from within the oil and gas sector."
With the two SPE Offshore Europe events 'bookending' COP26, which takes place from 1-12 November in Glasgow, oil & gas industry leaders, innovators and decision-makers will reconvene in person at the P&J Live in Aberdeen in February 2022 to advance the energy transition outcomes and realign strategies.
With a firm focus on the energy transition and the industry's role in supporting net zero, the virtual conference, which will begin each day at 12 noon (BST) / 7.00am (EDT) to accommodate international participants, will showcase the direction and innovation needed to fulfil the ambitions of climate change goals and maintain the role of oil and gas in the future energy mix.
Together, bp and Wood will lead a keynote session encouraging the sector to be "braver, bolder and better". Executive committee members Craig Shanaghey, President, Operations EMEA, Wood and bp North Sea's VP Production, Graeme Gordon will share the companies own experiences working together. "We agreed we would embed trust, empowerment and simplicity at the heart of the team, and integrate our collective competence, capability and experience to unlock transformative solutions that neither of us could achieve in isolation.
"I think September's digital event is springboard for action on the energy transition, to talk about things differently, and most importantly, be really open to reflect on the pace of change," said Gordon.
As well as exploring global challenges, SPE Offshore Europe has traditionally had a strong focus on North Sea activity. Another keynote session will ask what prize remains for oil and gas in the UKCS. This will be led by executive committee members Jim Lenton from Worley and Sian Lloyd-Rees from Aker Solutions. She said: "It's a hugely rare opportunity to be able to be educated across so many different aspects of our industry in just three days. The keynote sessions allow us to find out what others are doing, what's out there, and how all this can come together to drive forward our understanding and support a successful and sustainable future for the sector."
Together again in 2022
A socially distanced exhibition and new energy transition keynote conference content are already being planned for February 2022 at the P&J arena in Aberdeen. The show floor will
feature an Energy Transition Zone and Theatre, Decommissioning Theatre, a TIDE (talent investment & diversity) programme, and numerous networking events.
Neil Saunders, SPE Offshore Europe 2021 conference chair and executive vice president oilfield equipment at Baker Hughes said: "The future of oil and gas in the energy mix is in our hands and SPE Offshore Europe gives us the chance to work together, before and after COP26, to secure our place in a net zero future."
The inherent nature of SPE Offshore Europe, in both its virtual and physical forms, is a platform to learn, adopt and fast-track commitment to investing in and developing cleaner, more sustainable, low-carbon energy production for a brighter, more sustainable, and integrated energy future.