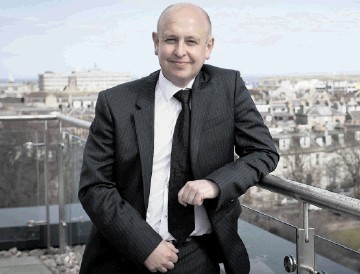 The new chief financial officer at Wood Group PSN said yesterday the business still had plenty of growth potential both at home and abroad.
David Kemp, who succeeded Duncan Skinner at the production-facility support division of energy service firm Wood Group last month, revealed he had already seen opportunities in the North Sea and globally.
Mr Kemp joined the Aberdeen-based company from Trap Oil, the UK-listed explorer he helped to set up in 2008.
He said there was a stark contrast between Trap, which had no turnover and only 12 employees, and Wood Group PSN and its 29,200-strong workforce and annual turnover of £2.37billion.
Mr Kemp added: "I was very happy at Trap and had been involved in starting up the company, so there was an emotional attachment there, but this was just too good an opportunity to turn down."
The new finance boss, who hails from Thurso but is now based in the Granite City, studied accountancy at Aberdeen University before starting his career with professional service firm PwC.
He has since worked for oil and gas businesses including Technip and Amerada Hess plus corporate-finance adviser Simmons and Company International.
Mr Kemp said Wood Group PSN had great growth prospects both in new and existing regions.
He added: "Growth in the US shale gas market has been phenomenal and if you look at other parts of the world – like the Middle East and Australasia – we are already involved in plenty of projects but there is still more business we could win.
"The North Sea is still a fundamental part of our operations and we see it remaining that way for a long time.
"We are not as heavily weighted towards supporting capital projects as other companies, so we do not rely as much on that cycle of investment in the UK."
Wood Group PSN recently started decommissioning work on Brent Delta in the UK North Sea and Mr Kemp said this would "stand us in good stead" for any future projects.
The Press and Journal revealed at the end of March that Mr Skinner would be quitting the oil and gas industry after 34 years to spend more time on north-east social enterprise Glencraft – which makes beds and mattresses and provides employment for people with various disabilities – and other good causes.
Engineering service firm Aiken Group said yesterday it had completed a £450,000 contract with Wood Group PSN to manufacture a local equipment-room module for EnQuest's Thistle platform north-east of Shetland.
Aiken, which specialises in building accommodation modules and service modules, employs 70 staff at its Torry base in the Granite City.