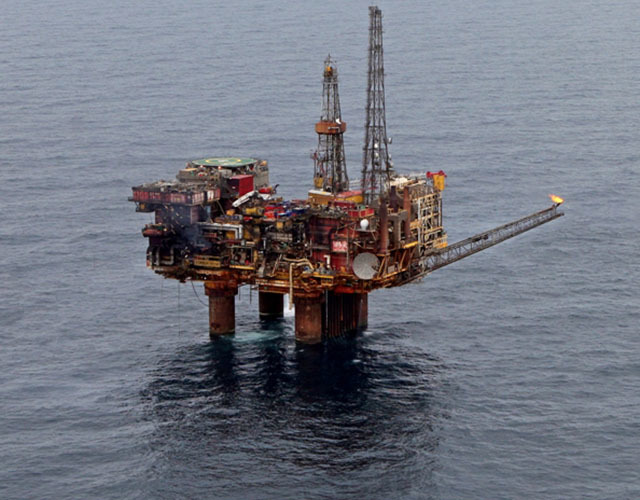 ENERGY giant Taqa has started work to potentially unlock 1billion barrels of oil in the North Sea.
But the industry could face major disruption while an ageing platform needed to bring the reserves ashore is repaired.
The Abu Dhabi-based company has shut down Cormorant Alpha – which is crucial to the operation of 27 fields in the northern North Sea – after a series of oil-leak scares.
The key Brent pipeline system, which carries 10% of the UK's oil and gas, runs through the platform.
Last night, Taqa managing director Leo Koot confirmed that the Cormorant shutdown could affect the pipeline – but said the work was "critical" for future production in the region.
"We are committed to investing in our infrastructure to ensure that production continues and export-hub facilities are maintained," he said.
"Cormorant Alpha is a critical piece of infrastructure for the continued viability of the northern North Sea and this planned programme of work will help extend its original design life and support the long-term security of UK energy supply.
"There is potentially 1billion barrels of oil behind Cormorant Alpha and, although our production may be affected over the next few months, this work is critical to ensure the long-term future of the northern North Sea."
The work is part of a £300million project to secure hundreds of jobs in Aberdeen – and will keep the Cormorant Alpha operational for another 10 years.
A spokeswoman for industry body Oil and Gas UK welcomed the move yesterday.
"Any life-extension work is very encouraging because it will help us achieve maximum recovery of the 14billion to 24billion barrels still remaining on the UK Continental Shelf," she said.
Eight other platforms – Dunlin, Thistle, Northern Producer, Murchison, North Alwyn, Tern, Eider and North Cormorant – also have to shut down production if the Brent line is closed.
Taqa said no closure was planned as part of this inspection but it could in future "be subject to temporary closure on a precautionary basis".
Production from Cormorant Alpha has remained offline since a leak in January.
Taqa confirmed the extended shutdown, which is expected to last several months, to investors yesterday.
In a statement, a spokes-man said: "After two hydrocarbon releases within a leg of the Cormorant Alpha platform in January and March, Taqa has accelerated a long-term inspection, repair and maintenance programme that has been under way since 2011.
"Production on the platform was initially expected to continue throughout the programme, but after the releases, which involved no leak of hydrocarbons to the external environment, Taqa has decided to continue the shut-in of Cormorant Alpha's production while the programme progresses.
"Thanks to this inspection programme being in progress prior to the releases, Taqa was able to respond immediately, addressing the issues quickly and effectively."
He added: "There is still substantial work to be performed in the platform legs. This will take months to complete. Taqa will provide an update on the outlook for resuming production at Cormorant Alpha when this work has progressed further."
Taqa Bratani, a UK subsidiary of the 75% Abu Dhabi government-owned Taqa, took over Cormorant Alpha in 2009.
Recommended for you

Taqa drawing up major decommissioning contract for Brae Alpha