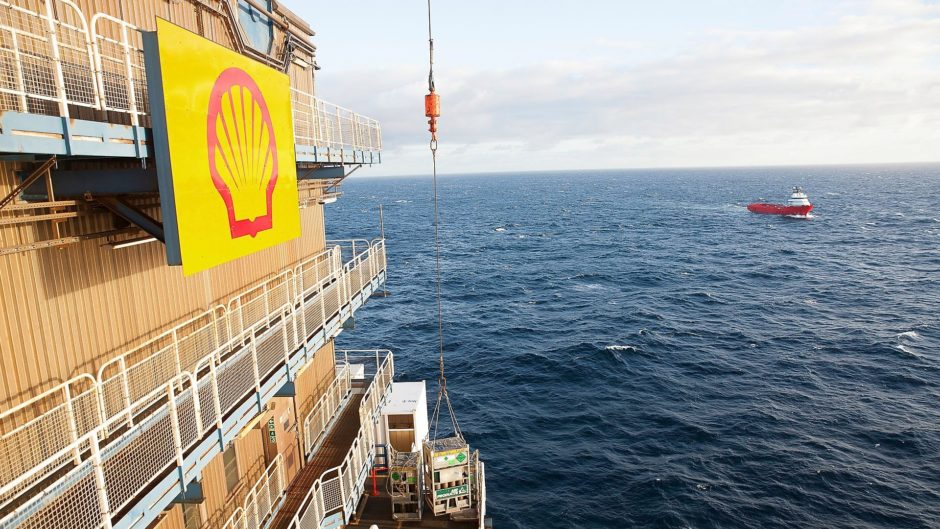 Shell's new North Sea boss has committed to putting the company's "upstream business in reverse" as part of a key Aberdeenshire CCS project to drive net zero.
Simon Roddy said the Anglo-Dutch supermajor would take action to "earn our license to operate" and secure "public trust" by aiding the drive to net zero, however it will continue to pursue "selective growth" in oil and gas in the UK and West of Shetland.
The drive to net zero includes repurposing the existing Goldeneye pipeline to allow emissions to be transported from the St Fergus gas terminal, Aberdeenshire, and stored offshore.
That will form the backbone of the Acorn carbon capture and storage (CCS) project, of which Shell is a key stakeholder.
Located at St Fergus, the scheme, which also involves Storegga and Harbour Energy, is planning to revamp oil and gas infrastructure so that it can be used to securely store CO2.
A final investment decision on Acorn is due to be made in the coming months and the project could start storing emissions by the mid-2020s.
As well as helping with decarbonisation, Acorn could also help to establish the nearby town of Peterhead as a hub for carbon transportation.
Shell was given the green light to decommission its Goldeneye platform, 80 miles north-east of Aberdeen, in 2019.
But the approved plans didn't include the pipeline, with hopes it could be used to support CCS.
Mr Roddy, senior vice president and upstream director at Shell, said: "As an industry, we must strive to meet the highest standards in order to retain our licence to operate, and we can be ambitious here.
"External scrutiny is not something to be afraid of when it challenges us to be the best.
"The North Sea Transition Deal is an example of this. In signing up to it, we've demonstrated our commitment to facilitate the energy transition and to achieving net zero.
"It's through our action, our commitment to delivery that we will continue to earn our licence to operate and public trust, and ensure a successful transition to a net zero economy.
"As part of the Acorn CCS project, we will put our upstream business in reverse. The Goldeneye pipeline, which comes onshore at St Fergus, will be repurposed to take CO2 from St Fergus to storage offshore.
"Together with our partners, we're not just talking about doing this, we're doing it."
Shell pursuing 'selective growth' in North Sea
Mr Roddy took over as Shell's North Sea boss from Steve Phimister earlier this year as part of a change of senior leadership.
Prior to taking up the role, he was deputy managing director of the oil giant's SPDC joint venture onshore Nigeria.
His time at Shell dates back to 1993, when he started as a petroleum engineer based out of Aberdeen, a position he held until 1997.
Along with its competitors, Shell is increasingly looking to expand its renewables footprint in response to global efforts to reduce emissions.
But Mr Roddy insists that doesn't mean the company is abandoning oil and gas.
He said: "We will continue to focus on selective oil growth in the North Sea and west of Shetland.
"Through our experience, skill and infrastructure, we believe we're uniquely placed to play a role in the journey to net zero, which includes meeting continued oil and gas needs.
"We've already reduced our upstream emissions by a third over the last five years, and we'll continue to focus on what more we can deliver.
"We believe the North Sea Transition Deal is a powerful example of what can be achieved when government and industry work together towards a common goal. Beyond these shores it can serve as a global blueprint."
Mr Roddy also described indigenous oil and gas production as an "enabler" for the energy transition, providing the "economic basis" for investment in low carbon solutions.
OGUK's Economic Report
He was speaking during the launch of Oil and Gas UK's (OGUK) Economic Report, released on Wednesday.
The study underlined the need for continued investment in oil and gas in order to ensure that UK demand can be satisfied domestically.
It warned that without future spend in the North Sea, the UK would become increasingly reliant on imports to make up the shortfall.
That would simply shift the UK's emissions overseas and do nothing to deal with the global problem, OGUK said.
Shell is currently at the centre of a nationwide debate about the future of North Sea oil and gas due to its involvement in Cambo.
The oil giant has a 30% stake in the planned development west of Shetland, with operator Siccar Point Energy holding the remaining 70%.
It is expected to yield 800 million barrels of oil but UK Government is under increasing pressure to reassess Cambo's licence, with many claiming it is at odds with net zero.
Earlier this year, Shell was ordered by a court in The Hague to cut its carbon emissions by 45% by 2030, compared to 2019 levels.
The decision was regarded as a huge win for environmental campaigners, though Shell subsequently confirmed it would be appealing the verdict.
Recommended for you

Acorn backers 'ready to step up' following Track 2 CCUS announcement