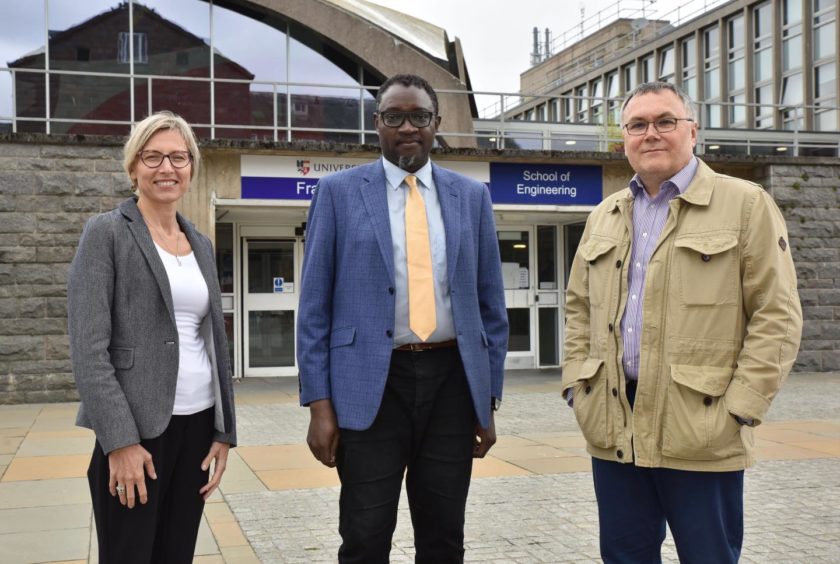 Social enterprise AFBE-UK Scotland has teamed up with Aberdeen University's School of Engineering to support its diversity and inclusion strategy.
The two partners will work closely to help graduates bring the gap between completing their academic studies and taking a first step on the career ladder.
In addition, AFBE-UK Scotland will support the School with its diversity goals.
A particular focus will be the way in which it communicates the contribution of people of minority ethnic origin through its academic programmes and curriculum.
Aberdeen-based AFBE-UK Scotland supports aspiring engineers, particularly those from black and minority ethnic (BME) backgrounds.
Aberdeen University is the latest organisation to join the social enterprise, which provides a platform for sharing ideas and supporting diversity and inclusion strategies.
Other partners to sign up recently include the RAF, the Mercedes F1 team and renewables giant SSE.
The School of Engineering already has an equality, diversity and inclusion committee.
It is planning to participate in AFBE-UK Scotland's programmes in Transition, Real Projects and NextGen.
Ollie Folayan, chairman of AFBE-UK Scotland, said: "This is a tremendous partnership – one where both parties have a key role to play.
"I had an opportunity to give a lecture to the School of Engineering recently and I was impressed by the openness of the leadership to discussions on racial equity and their dedication to ensuring that the curriculum better reflects the contribution of minorities.
"This is the first time any organisation has signed up to a long-term partnership with us and I believe that reflects the extent of ambition that the University of Aberdeen and the School of Engineering have in promoting opportunities for all.
"We are very much looking forward to working with them."
Professor Igor Guz, head of the School of Engineering, said his faculty was very much looking forward to building on its relationship with AFBE-UK Scotland.
"The School of Engineering is proud to have staff and students from a diverse range of backgrounds and cultures, which is a large part of what makes it such a great place to work and study," he said.
"There is always room for improvement, however, and we anticipate that by working closely with AFBE-UK Scotland, we will continue to build on that cultural inclusion."
AFBE-UK Scotland runs a "highly regarded" Transition programme, where industry leaders help graduates and final-year students to enter the STEM jobs market.
Transition events have been held online alongside corporate partners such as Spirit Energy and Wood, having previously been held face-to-face at universities in Aberdeen and Edinburgh.
In addition, AFBE-UK Scotland provides mentoring programmes to support young people with their STEM careers, including its schools programme NextGen, where industry leaders and professionals give advice to pupils through events, and Real Projects, where industry professionals share their knowledge and expertise.
These programmes were usually carried out in person, however, they are currently taking place online due to the ongoing Covid-19 situation.
Recommended for you

Next generation of senior leaders to help 'make strides' in D&I