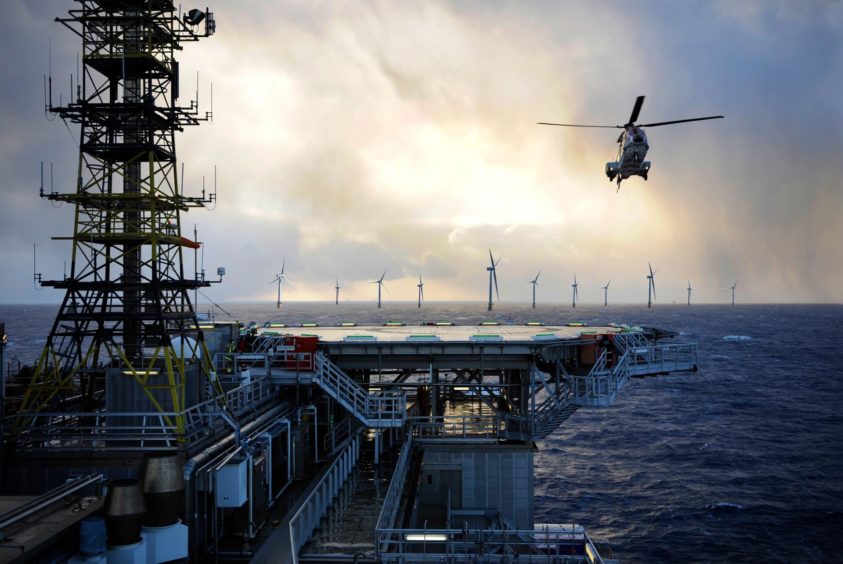 A floating offshore wind farm could be used to supply power to Equinor's 300 million barrel Rosebank field.
Sonja Chirico Indrebo, head of floating offshore wind at the Norwegian energy giant, said while there's "nothing concrete", the idea is "on the drawing board".
And the company is "looking into" what the Hywind Tampen project means for the North Sea field.
She added that the "story of Equinor" is merging competencies and technologies.
Construction of Hywind Tampen got underway last year and the project is progressing "really well", Ms Indrebo said.
Located about 85 miles from the Norwegian coast, it will be the world's first floating wind farm to power offshore oil and gas assets, decarbonising operations.
The 11-turbine scheme, which will supply green energy to the Snorre and Gullfaks installations, is due to start up next year.
It will give Equinor around a third of global floating offshore wind capacity, adding to its Hywind Scotland development off Peterhead.
On whether a similar option could be used to cut emissions from Rosebank, Ms Indrebo said: "We speak closely to the Aberdeen office because that's where we have a large portfolio.
"The story of Equinor is how to merge these competencies so Rosebank is definitely looking into what Hywind Tampen means for them and what it could potentially look like.
"There's nothing concrete but it's definitely on the drawing board – we're always trying to find optimised solutions."
Discovered in 2004 about 80 miles west of Shetland, Rosebank is among the UK North Sea's largest remaining oilfields.
Equinor snapped up its 40%-operated stake in the field from Chevron in late 2018.
Prior to that, it had owned a 30% non-operated interest in Rosebank, but sold it to Austrian firm OMV in 2013.
A final investment decision on the field is expected to be taken in May next year.
However, the future of North Sea production has been thrown into sharp focus in recent weeks as the debate about Siccar Point Energy's planned Cambo field rages on.
Some are calling on the UK Government to scrap the project, also west of Shetland, due to claims it is at odds with net zero.
Industry chiefs have argued that scrapping Cambo would simply lead to an increase in hydrocarbon imports, potentially from more carbon intensive regions.
Accordingly there is an increasing drive amongst North Sea companies to reduce their operational emissions.
Ms Indrebo said: "The future for oil and gas will depend on the frameworks in place in different countries.
"In Norway, we have a very high CO2 tax and that pushes a lot of decarbonisation. Scotland has a very ambitious net zero goal so I am sure that will be a driver here.
"It will depend on where you are in the world but we do believe floating is a good solution to provide electricity for oil and gas needs."
Recommended for you

Can oil ever be green? Norway turns to wind-powered drilling