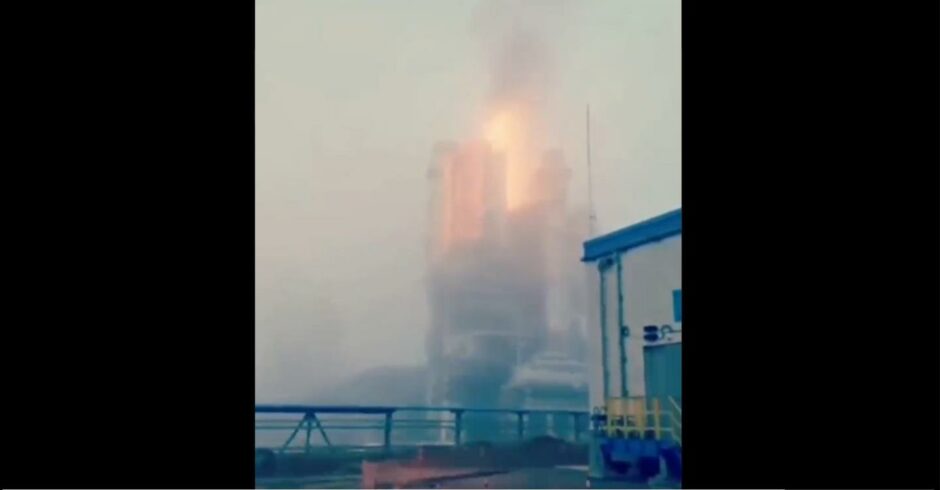 A large gas refinery in the Far East of Russia has been shut down after a fire erupted at the site early on Friday morning.
All works at Gazprom's (MCX: GAZP – 369.16 RUB) Amur Gas Processing plant, which supplies China through the Power of Siberia pipeline, have been stopped following the explosion.
According to authorities at the facility, the fire has been extinguished.
Gas supply to Amur Gas Processing plant – Russia's largest gas processing plant in the Far East, supplying China via the Power of Siberia pipeline – and all works have been suspended, following earlier explosion and fire. The fire has been extinguished, the plant authorities said pic.twitter.com/X5vI5oXfEf

— The Siberian Times (@siberian_times) October 8, 2021
A video shared on social media shows the blaze engulfing the facility as workers watch on from a safe distance – a claxon blaring a safety message is also audible.
Though the full implications of the plant shut down aren't yet clear, it comes amid an ongoing energy crisis across swathes of the world.
Many governments in Europe are looking to Russia to supply more gas to the market after the commodity hit a record high earlier this week.
There are further concerns that a cold winter in the Northern Hemisphere could push gas reserves to breaking point.
According to Reuters, a previous fire at a Gazprom plant in the north of Russia led to "reduced gas condensate output" and cuts to European supplies.
The news agency also said that the Amur plant that operations had been suspended and that "one of its lines caught fire after decompression", but others are unaffected.
It's now known if anyone was injured.
Located near the town of Svobodny, relatively near to the Chinese border, the facility is one of the largest gas processing enterprises in the world.
It started up production in June 2021 and is designed to process 42 billion cubic meters of natural gas per year.
In 2025, the gas processing plant is due to reach its full capacity.
Recommended for you

The danger and the tool: decarbonising gas and LNG