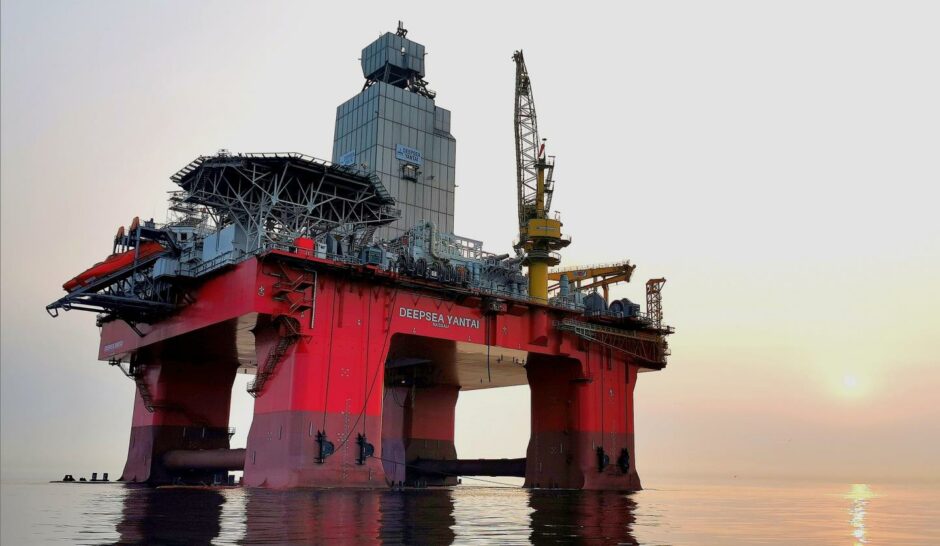 Westwood Global Energy reports that there were four exploration wells active as of 25 October. Key exploration wells drilling in October include the Dovregubben, Egyptian Vulture, Fat Canyon and Mugnetind wells. A total of six appraisal wells and 23 exploration wells have completed and to date in 2021, from which eight commercial discoveries have been made giving a 35% commercial success rate to date.
North Sea
Aker BP spudded the 7/11-14 S Mugnetind exploration well on 10 October with the Maersk Integrator jack-up. The well is targeting the Upper Jurassic Ula Formation, in a low relief four-way dip closed structure. If commerciality is proven, a tie back to nearby infrastructure such as the Aker BP-operated Ula field, c. 14 km to the east, is the most likely solution.
Lundin spudded the 17/8-1 Dovregubben frontier well on 16 September but was suspended shortly after as the Deepsea Stavanger rig mobilised to drill the 16/4-12 Merckx well. The well was re-entered c. 8 October and has been reported as dry with traces of hydrocarbons. The well is located on the Sele High and encountered 10m (33ft) of good quality Middle Jurassic Sandnes and Bryne Formation sandstones in the primary target. In the secondary target the well encountered tight reservoir in both the Permian Zechstein Group and Rotliegend Group. The well also encountered 120m (394ft) of poor to moderate quality Triassic Skagerrak and Smith Bank Formation Sandstones. There were no traces of hydrocarbons encountered and the well will be P&A dry.
Neptune completed the 33/6-5 S Dugong Tail well on 16 October, having spudded on 26 August with the Deepsea Yantai semi-sub. The well was targeting Upper Jurassic Intra-Draupne Formation and Middle Jurassic Brent Group Rannoch Formation sandstones in a downthrown fault block terrace trap. JV partner Petrolia announced that drilling operations had been completed on 8 October and the well was dry, although it is understood that final logging had not been completed at that time and an update from the NPD has not been issued to date.
Lundin completed the 16/4-12 Merckx high impact exploration well on the 8 October with the Deepsea Stavanger semi sub. The well is located less than 1 km to the SW of the Solveig field on the Utsira High and was targeting stacked prospects in Lower Paleocene Ty Formation sandstones in a stratigraphic trap, and Permian Zechstein Group carbonates in an underlying fault block structure. The well encountered 58m (190ft) of water bearing Paleocene Ty Formation sandstone and 12m (39ft) of water bearing Permian Zechstein Group reservoir. The well was P&A dry.
Norwegian Sea
PGNiG spudded the 6306/3-1 S Fat Canyon high impact exploration well on the 30 September with the Borgland Dolphin Semi-sub rig. PGNiG announced a deal on 25 March 2021 to acquire all of INEOS's 21 licences in Norwegian for US$323 million and this was given NPD approval on 24 September with the deal completing on 30 September. The well is targeting Lower Cretaceous and Upper Jurassic sandstones of the Lyr and Rogn Formations in an incised valley or canyon fill. The well has a predicted 40-day dry hole duration.
The Equinor-operated 6407/1-9 Egyptian Vulture well was spudded on 24 September and made a light oil discovery in the Cretaceous Intra-Lange Formation turbidite stratigraphic play. The well encountered a 37m (121ft) very light oil column with no OWC. The reservoir is comprised of 13m (43ft) net sand and had a c. 16% porosity and high net to gross ratio. This was the second of Longboat Energy's seven farm-in wells to spud and it has reported post-drill recoverable resource of 19 – 63 mmboe.
Barents Sea
The 7122/6-3 S Rødhette well was completed with the Scarabeo 8 Semi-sub rig by Vår Energi on 10 October and was targeting the Middle Jurassic – Triassic in a tilted fault block. The well encountered a 29m (95ft) hydrocarbon column in the Middle Jurassic Stø Formation, consisting of an 18m (59ft) gas column over an oil rim. Volumes are lower than pre-drill expectations and commerciality is uncertain.
Recommended for you

Well Slot: Four exploration well projects completed in Norway