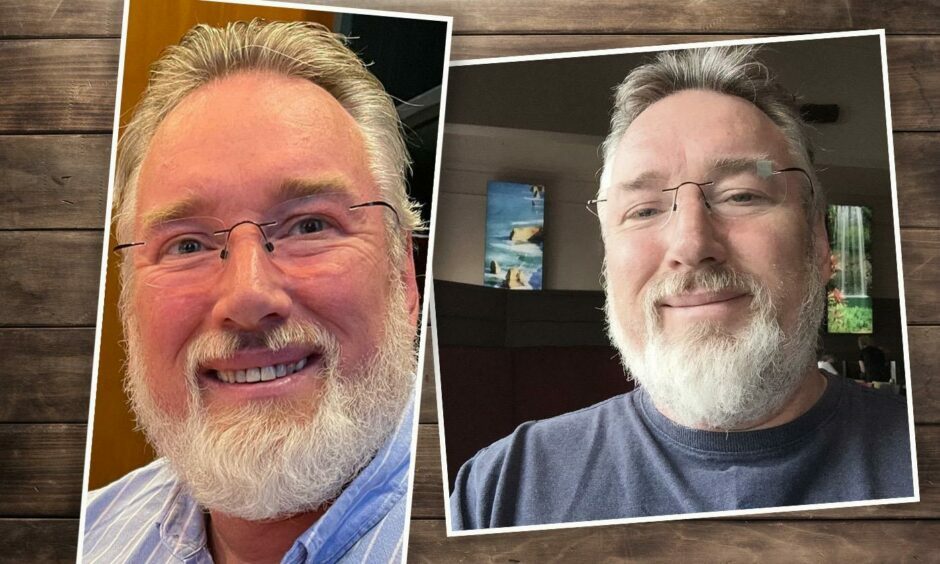 Alex Sibbald of Aberdeen, a retired offshore installation manager, and accomplished sportsman, has died aged 58.
He played semi-professional basketball, played rugby for Aberdeen Wanderers and, along with his father, started Lynx Ice Hockey Club.
Alex died after a battle with Covid, pneumonia and septicaemia, despite having had both vaccines and the booster jab.
Virus strikes
Both Alex and his wife Heather, together with several family members took ill with Covid at the same time late last month.
Heather and Alex were admitted to Aberdeen Royal Infirmary on Wednesday, October 27 but while Heather stabilised, Alex's condition deteriorated.
By Saturday, October 30, Heather was in the Covid ward while Alex was in ITU. It was the early hours of Sunday morning that the decision was made to intubate Alex.
Struggle
His son, Steven, said: "My father was always a fit man but the effort of breathing was so difficult for him, using calories equivalent to running a marathon every day.
"He did plateau and the amount of oxygen he required was reduced but it takes twice the lung power to exhale Co2 than to breathe oxygen.
"Levels of Co2 did improve and he managed to wake for 40 minute periods. My mum was able to see him due to the unusual circumstance of both my parents being in Covid wards, however, he developed pneumonia and the virus entered his blood stream."
Home
Steven said his mother is now out of hospital and making progress.
"My father was always one for the rules. He was that guy. He would always wear a mask where required to stay safe. I suppose his caution came from working offshore for years.
"The hospital staff were excellent. They did not just say nice things. They were upfront and factual and we appreciated that.
"They said the hospital is as busy as it has ever been with Covid patients although they have more treatment space now than at the start of the pandemic.
Random
"It seems there is no rhyme nor reason for who takes seriously ill. I saw elderly people, middle aged people and one woman who could only have been 30."
Alex's funeral will be at Craigiebuckler Church on Friday, November 19, at 11am.
In his professional life he was known as a Forties legend and worked in the field over four decades.
Progress
He began his career as a production technician with BP, he rose to management level and mentored many younger workers along the way.
Alex acquired the nicknames Big Eck and Victorian Dad offshore, where he was known for his fairness, patience and calm.
He was born in Edinburgh in September 1963, the son of Alex and Christine Sibbald and grew up in Ratho village.
Early education was at Currie High School, near Edinburgh, before the family moved to Monymusk.
Alex's father, also Alex, was rector at Hazlehead Academy.
Sporting ability
In his youth, Alex played for Scotland's most successful basketball team, Murray International, now known as Livingston, with former NBA player, Alton Bird.
He began his career with BP in Aberdeen and started and played for the BP basketball team as well as Post Office Eagles.
Even while working offshore, Alex found time to play rugby with Aberdeen Wanderers when home, alongside Scotland international Jason White and many others.
His son, Steven, and grandson, Ethan, followed the family tradition by playing for the club.
In 1992, Alex, together with his father, and coach Billy Brennan, started Lynx Ice Hockey Club which all three generations of the Sibbald family turned out for.
Respect
His son Steven said: "Offshore, he was respected by his peers for his patience and understanding, including his ability to keep calm in tough situations and perform to a high level."
Although his career started with BP, Alex transferred to Apache North Sea, when it bought the Forties assets from BP.
Experience
He was heavily involved in bringing on the new Forties satellite platform to operate next to Forties Alpha.
Alex retired in 2018 and, following his death, his family have received many messages of condolence.
Steven said: "He was one of the long-serving Forties stalwarts and there has been an outpouring of disbelief at his passing. The family has been overwhelmed with thoughtful messages, calls and emails."