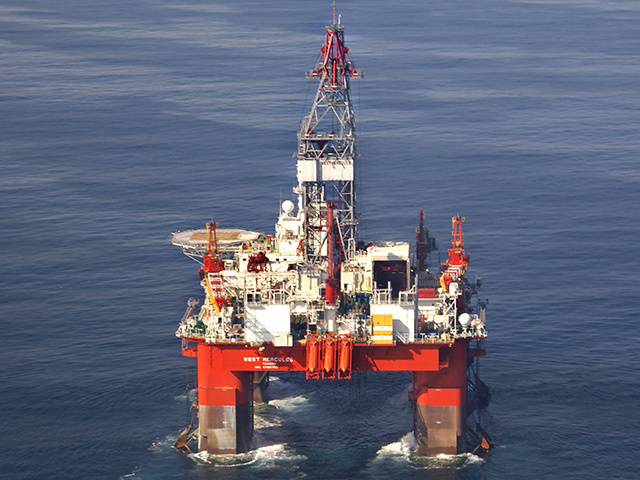 There are currently nine active E&A wells on the UKCS, keeping six jack-ups and three semi-submersibles rigs busy. Five are exploratory and four are appraisals. The spud-count for the UKCS so far this year is 16; nine exploration and seven appraisal. Two exploration and three appraisal sidetracks have also been started. Further, two exploration wells have been re-entered and one re-spudded.
The active development and production wells count has dropped from the 21 reported last month to 14 although the number of spuds has risen to 19, with 21 wells sidetracked. The total number of 2013 D&P starts so far is 40. Nine mobiles and four platform derricks are busy on development/production drilling.
Northern North Sea
Operations ended on EnQuest's Kraken/Ketos appraisal, well 9/2b-6; the primary objective (Palaeocene) reservoir being oil-filled. The rig Ocean Princess then moved to the operator's Don Southwest field on Block 211/18a. Total's well 3/15a-16Z on the M.Jurassic Laphroaig prospect was abandoned by the Sedco 714 and a second sidetrack (16Y) is imminent.
Central North Sea
Maersk's Well 13/26a-5 – Stephenson prospect (L.Cretaceous/U.Jurassic) was abandoned without comment on May 10, although 13 of the well's 30 days appear to have been on TD operations. While a drill-stem test may not have been conducted, the length of time at TD might indicate some success.
Also terminated was Premier's Bonneville appraisal leg, well 28/9a-6Z and First Oil's Centurion South prospect, Well 29/6a-8, which was abandoned on the last day of April as an oil find in thinner than anticipated U.Jurassic Fulmar sands.
Four CNS wells are active, the most recent spud being on May 8, with Premier's well 23/22b-6 on the Triassic Lacewing prospect (rig Maersk Resilient). GDF Suez's well 22/23c-8 on the U.Jurassic Taggart/Rotliegendes Rebus prospect (rig Galaxy II) continues, as does Talisman's well 22/24e-12 . . . an appraisal of Triassic Seagull North (rig Sedco 711). Meanwhile, it is understood that BG has been at TD for some weeks with well 30/2a-10 (Rowan Gorilla VI) on the U.Jurassic Thunderer prospect. A positive outcome seems possible.
West of Shetland
Drillship Stena Carron, which had moved to Norway following BP's UK deep-water North Uist discovery was due back on or around May 25 to drill a Cambo appraisal well on block 204/5a for Chevron/Hess. Meanwhile, BP's well 206/13a-3, spudded April 1 by Paul B. Loyd Jnr, is the first in a new Clair appraisal programme designed to evaluate and ultimately produce additional reserves from this giant field.
Southern North Sea
RWE's Carboniferous Severn prospect, well 43/18a-2, was sidetracked on May 19 (rig Ensco 92). Three days earlier, E.On spudded the first Tolmount appraisal, well 42/28d-13 (Maersk Resolve). Two unsuccessful attempts were made to drill Tolmount (nee Scolty) in early 2008 and mid-2010 before eventual success in mid-2011.
Irish Sea
The first E&A activity of the year has begun in the East Irish Sea Basin where, on May 10, EOG spudded Corfe appraisal well 110/12a-9 prior to starting on the Conwy development drilling programme. As planned, a sidetrack is under way targeting Conwy South via well 110/12a-9Z from a common surface location.
Summary
The number of 2013 UK spuds is broadly in line with the same period in 2012. In terms of discoveries, two are noted so far this year: Premier's Bonneville and First Oil's Centurion. Appraisal success is noted with Apache's well 21/10-B54 (Forties B platform) and EnQuest's Kraken.
Accepting on-going operations and a small number of "unknowns", the exploration success rate is currently a little over 22%; not good, but higher than for the Norwegian sector.
Simon Robertshaw's column is courtesy of North Sea analysts Hannon Westwood
Recommended for you

Well Slot: Who's drilling in the UK North Sea and Norway?