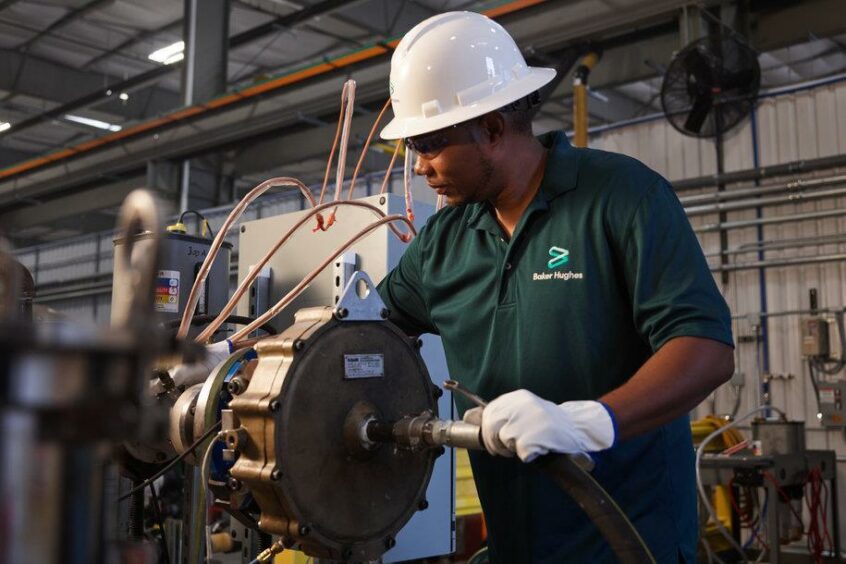 Oilfield services giant Baker Hughes (NASDAQ: BKR) returned to profitability in full-year 2021, reporting a strong Q4 to round off the year.
Announcing its preliminary Q4 and annual results, the Houston-headquartered company reported orders of $6.7 billion (£4.9bn) for the final quarter – up 24% on the previous three months – and revenues of $5.5bn (£4bn).
It helped pushed the oilfield services provider to a $428m (£314m) pre-tax profit for full-year 2021, turning around losses of $15.2bn (£11.2bn) the year before.
The company cut its global workforce by 15% between March and November 2020, as it sought to navigate the effects of the pandemic.
Total revenues fell slightly to $20.5bn (£15bn), compared with $20.7bn (£15.2bn) the previous year.
Chairman and CEO Lorenzo Simonelli said he was "pleased" by the fourth quarter results.
"We generated another quarter of strong free cash flow, solid margin rate improvement, and strong orders from TPS [turbo machinery and process solutions]. For the full year, we were pleased with our performance and took several important steps to accelerate our strategy and help position the company for the future," he added.
Mr Simonelli said Baker Hughes was "well-positioned to capitalise on near-term cyclical recovery and for long-term change in the energy and industrial markets."
Shares are up nearly 6% to $27.80.
The year saw the company's orderbook grow by just under $1bn (£730m) to $21.7bn (£15.9bn), driven by a nearly 20% increase in orders for its TPS unit.
"Overall, 2021 proved to be successful on many fronts for Baker Hughes, with key commercial successes and developments in the LNG and new energy markets, as well as record cash flow from operations and free cash flow, and peer-leading capital allocation," he added.
Noting quarterly highlights, the company pointed to the award of a contract to develop 14 offshore wells in the Baltic Sea for Lukoil, as well as a two-year contract for technology and services with an operator in the US' Permian Basin and awards for turbines at the Pluto LNG facility in Australia.
Its equipment division also bagged a major 10-year contract with Abu Dhabi National Oil Company (ADNOC) for its surface pressure control (SPC) line to manufacture, supply, store, and service surface wellheads and tree systems.
It also signed a broad strategic collaboration agreement with Shell, which will see the supermajor provide the company's US sites with power and renewable energy credits, as well as negotiate renewable power for sites in Europe and Singapore. Meanwhile, Baker Hughes said it would provide low-carbon solutions for Shell's LNG fleet.
The company also noted "continued customer interest" in carbon capture, utilisation and storage (CCUS) applications.
Added Mr Simonelli: "As we look ahead to 2022, we expect the pace of global economic growth to remain strong although slightly moderate compared to 2021.
"We believe the broader macro recovery should translate into rising energy demand for 2022 and relatively tight supplies for oil and natural gas, providing an attractive investment environment for our customers and a strong tailwind for many of our product companies."
The company said it would continue to maintain its cash dividend of $0.18 per Class A share. Baker Hughes has historically declared its dividend quarterly to total $0.72 (53p) per share annually.
Recommended for you

North Sea chiefs make plea for 'stability' ahead of crucial windfall tax vote